Cafe Roze is a modern neighborhood cafe with an approachable menu and perfectly executed food.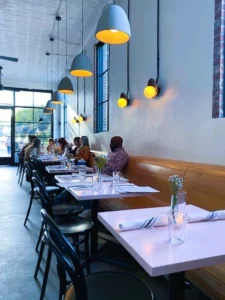 Cafe Roze elevates the food options on Porter Road in East Nashville and is a destination worth traveling to for an exceptional dining experience. It is located in a simple, nondescript building with a classic, clean interior that is inviting and the perfect place to enjoy a meal. The high ceilings and bistro tables provide an airy, comfortable setting to meet up with friends.
It was a beautiful, sunny day in Nashville when my party of three came to Cafe Roze for food and drinks before going to a show.
I've been wanting to visit Cafe Roze for a while but hadn't managed to get a reservation until this visit. Since it is popular and they have limited seating, it is important to make a reservation. They may have same-day availability if you are willing to visit early or late, but prime times book up fast, so make sure to plan ahead. I was excited to sample the Salt and Spirit Happy Hour on my first visit, and we sat in the back of the restaurant just shy of ten minutes before happy hour ended. They offer three food items during happy hour: oysters, crudité, and French fries. The cocktails offered during happy hour are gin-heavy, but they also offer sparkling rosé and prosecco if you are like me and don't love the taste of pine needles.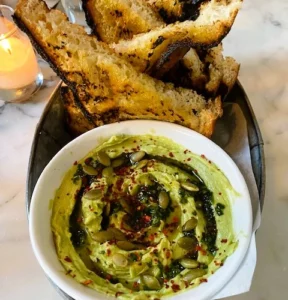 Everything we sampled was very good and fresh. The shoestring fries were perfectly crisp and salty with a side of ketchup. But that's not a great testament to the food, because it's difficult to find a fried potato that I don't enjoy. The crudité came with homemade miso ranch dressing and fresh seasonal blanched vegetables including broccolini, carrots, cucumber, tomatoes, and watermelon radishes. I can do without oysters, so we quickly polished those off and decided to order an appetizer and entrées. First, we shared the avocado hummus with chermoula, a Moroccan herb spice, and a topping of pepitas. The hummus was a pleasantly thick consistency with a well-balanced rich flavor. Cafe Roze served it with just the right amount of thick, toasted bread. We finished it off fast in anticipation of our entrées.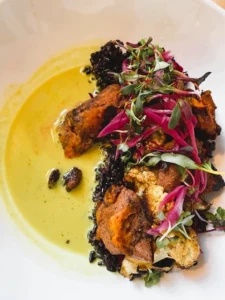 Both of my dining companions are regulars, so they already knew what to order and opted for Smashburgers. The burgers are made with mustard grilled patties, cheese, homemade pickles, special sauce, and a side of fries. The bite that I tasted was great, and this is coming from someone who is not a big hamburger fan. It was hard to pick what I wanted to order, but I decided to get the dinner bowl, which is a vegetarian dish of coconut curry broth, black rice, grilled broccolini, mushrooms, and seasonal squash. It may sound like something with this many vegetables would be bland, but the curry broth was extremely flavorful and the coconut added a lovely richness that made it something special.
While I was only able to sample a small amount of food, everything I had was fantastic and fresh. They are also well-known for their brunch, which is next on the list. I cannot wait to come back to Cafe Roze to experience more of their fresh, curated food.