Cooper's Hawk, where food and wine are best served together.
Cooper's Hawk Winery & Restaurants is an Illinois-based restaurant and winery chain founded by Tim McEnery. The restaurants each include a full-service restaurant, a tasting room, and a retail store. Each restaurant also stores and displays barrels of Cooper's Hawk wine, which undergoes the aging process from a few months up to 18 months. Cooper's Hawk makes almost 60 different wines and sells only its own wines in its restaurants, as well as producing 12 "wines of the month" each year. You can even become a member of their wine club!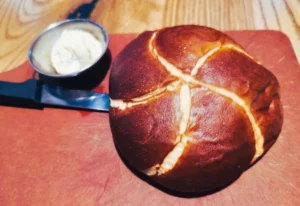 Their menu offers a diverse selection of dishes specifically designed to pair with wine, which has won over 300 wine awards. The menu has a selection of American fare infused with flavors from around the world. Some popular dishes include pistachio crusted grouper, red wine and mustard short ribs, and Mexican Drunken Shrimp.  
From their extensive menu, we sampled the pork tostados as appetizers. These were plentiful, so I recommend that you order them to share. They looked very pretty and were fresh and appealing. They had some nice pieces of pork cooked in a sticky sauce, a hint of ginger, cilantro, and shaved radish. 
For our mains, we decided to be adventurous and ordered their shaved cold Brussels salad. This was also a substantial amount. We enjoyed it, but I must say, I prefer warm and charred Brussels. I am glad I tried this innovative and healthy dish, but I was not an overt fan of it.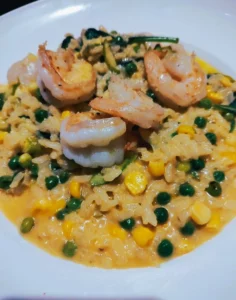 Now, the main highlight of the evening for me was the shrimp and scallop risotto. It was piping hot, silky, creamy, and beautifully cooked. The dish was also rather large, so we got a takeaway container to bring it home. My server told us that Cooper's Hawk is known for their risottos, and I loved it! 
We finished off our evening with a dessert. Our server informed us that all the desserts are made in-house. We decided to try one of their seasonal specials, which was a rustic, hearty lemon pound cake served with a lemon zest cream sauce and topped with a fresh fruit compote. It was another massive hit. Apparently, they always have chocolate cake as well. Our server said he is not really a fan of cake, but his favorite dessert was Cooper's Hawk's chocolate. Next time, I will surely try it. 
 I also tried a few different wines, which are all from the Cooper's Hawk brands. They were excellent, and I like to think that I know my wines. The chardonnay grand lux was particularly creamy, fresh, and pleasant.