District Taco – fast casual

Mexican

with a local Washington, D.C. flare. 
You've had Mexican fast casual before, but you haven't had District Taco's Mexican fast casual before! This hyper-local chain is different than other eateries of its type. The owner of District Taco is a Mexican immigrant who started this local hot spot from a food cart in Rosslyn, Virginia. District Taco serves up Yucatan fare with local flare, including recipes based on the owner's mother's own favorites.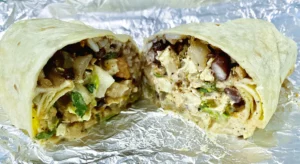 District Taco offers breakfast, lunch, and dinner to customers. In fact, breakfast is served all day long! That means breakfast burritos are available whenever the restaurant is open. District Taco even has churros on the menu for dessert! Definitely order these if you have a sweet tooth. I really enjoy that they offer an authentic dessert along with their entrée options.  
Not to mention the choice of building your own tacos, burrito, burrito mojado, bowl, salad, or quesadilla, District Taco also sets itself apart with their topping and protein options. They offer 15 toppings and eight proteins, including fish and beyond meat. If 15 toppings are too many to choose from, you can order your meal the "American way" with lettuce, pico de gallo, and shredded cheese, the "Mexican way" with cilantro and white onion, or the "Jefe way" with lettuce, pico de gallo, shredded cheese, grilled veggies, and sour cream.  
When you walk into District Taco, you'll see bright primary colors all around the restaurant's decor. It's a fun environment for a fast casual restaurant. They've recently made some changes to the ordering process. Now, you place your order on a tablet screen in front of the restaurant. Friendly staff members are there to help you out if needed, but I actually liked being able to scroll through the toppings on my own to make sure I included everything I wanted in my burrito. To start, I opted to go with a burrito that came with rice and black beans. I added pollo asado (chopped chicken), cilantro, onion, pico de gallo, grilled veggies, and chipotle mayo.  
After placing my order, I had a short wait and picked up my food at the counter. My burrito was a substantial size, bigger than I anticipated! It came wrapped in aluminum foil, and I loved that. It felt authentic to their roots as a Mexican food cart. I couldn't wait to dig in! It was absolutely delicious. The ingredients tasted so fresh, and all the meat was made to order. The chipotle mayo was an excellent addition that made my burrito unique to District Taco.  
All of the locations I have been to have a lot of seating, so if you are a larger group or want to eat in the restaurant rather than take it to-go, there are usually plenty of open seats. District Taco is an awesome spot for anyone looking for a quick, fresh, and filling meal. Whether you are taking a break from sightseeing at the National Mall or you're on your lunch break with coworkers, District Taco is the perfect spot for you. Check out this local favorite for your next taco run!