A fast-casual dining experience with a "Gordon touch" only at Gordon Ramsay Burger.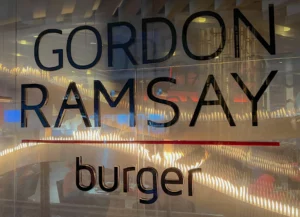 Among the overly expensive, sometimes pretentious Las Vegas Strip food scene is a low-key gem that is often overshadowed by the other fancier, more well-known options. While looking at the endless neon-lit billboards along the Strip, it's common knowledge that the MasterChef himself, Gordon Ramsay, has multiple restaurant establishments on the Strip, including the infamous, and highly-priced, Hell's Kitchen. But for Vegas patrons who are simply looking for affordable non-fine dining with a "Gordon touch," Gordon Ramsay Burger at Planet Hollywood Resort & Casino is absolutely the perfect way to go.
After navigating through the casino floor maze via a secondary hotel entrance, we found the restaurant located right at the main entrance and steps away from the Strip. There was quite a long line formed up for a Thursday lunchtime. We waited for about 20-30 minutes in line before getting a table, so I highly recommend booking in advance to avoid a "hangry," moody outburst in the queue, which did happen to me. There is a really cool fire display in front of the restaurant, which is a fitting Instagram moment that matches the theme of the place, but it gets boring quickly, especially after standing for 20 minutes.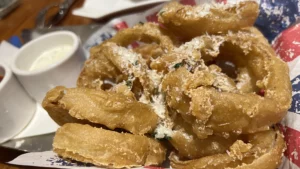 Once seated, our server was pretty attentive. We ordered two burgers and a plate of onion rings as an appetizer. We waited about 15 minutes before our onion rings came, which we devoured immediately not only because we were starving, but also because they were truly delicious. Sprinkled with parmesan cheese, the onion rings were superbly crispy, thick, and well-seasoned. They were not greasy, like most other bar food in Vegas. From the onions being fresh to the beer batter being on point, it was definitely one of the better onion rings I've had.
Both our burgers came not so long after. The first burger was one of their signatures called the "24 Hour Burger." It's a juicy braised short rib with brown sugar bacon, white cheddar cheese, arugula, cold brew vinaigrette, pickled shallots, and red-eye BBQ sauce between two flawlessly cooked, slightly charred brioche buns. If you are picturing the perfect burger right now, this is it. The pickled shallots and vinaigrette balanced the sweetness of the short rib and bacon. The arugula helped lighten up the overall dish, while the thick slice of white cheddar added richness. The BBQ sauce was not overwhelming and it tied all the elements in the burger together to create the ideal, mouth-watering experience with each bite.
Our second burger dish was their "Hell's Kitchen Burger," which was as equally satisfying as the first. Being a spicy food aficionado, I absolutely loved this burger. There is the usual thick and properly cooked juicy burger patty, but what made this burger a champion was the umami combination of roasted jalapeño and roasted tomatoes, as well as the creaminess of avocados, jalapeño aioli, and a slice of asadero cheese. It truly was a burst of flavors and I had to consciously control myself to stop eating it since I had a buffet reservation for dinner later that day. It's not even that spicy for those who are hesitant about this burger, though I might be biased since I grew up eating spicy food. But, given the nature of Las Vegas, I'm sure Gordon put some careful thought into the international clientele that would be visiting his restaurant when he stirred up the menu. In my opinion, this burger is a must-try. It was undeniably one of the top burgers I've ever had, and it is worth coming back for on multiple occasions.
All in all, was the wait worth it? Yes, absolutely yes. I couldn't think of a better burger place with this price point in Vegas. It's centrally located and can be easily accessed from the Strip before you continue your Vegas excursion for the rest of the day and night. If you are a planner, make sure you reserve a table in advance so you don't have to wait in line. I highly recommend this restaurant.