Hank's Oyster Bar is more than a restaurant — it's a gathering place.
I'm a seafood lover, and in the D.C. region, Hank's Oyster Bar is the place to go for a seafood lover. With three locations throughout D.C. and northern Virginia, all painted in their signature deep blue, it's easy to find — but not always easy to get in. That's why they recently relocated their Old Town, Alexandria location to a larger spot, encompassing a building with more seating in the main dining room and an open-air rooftop bar and lounge. Now, it's the most popular new spot to grab a drink and enjoy a summer afternoon.
Hank's Oyster Bar is a seafood spot unlike any other; there's a mix of both class and uniqueness in everything they do. The decor is typical without being tacky. Scenes of the sea, boats, and oyster ads adorn the walls of the interior, which are painted a dark blue on the bottom half and light blue on the top half, evoking the feeling of looking out on the sea and sky. While you peruse the menu, the staff brings around small bowls of Goldfish crackers for you to munch on. In theme, and yet so inventive. The food features traditional, comfortable classics that are always done with a flair, offering something unexpected while still hitting the spot.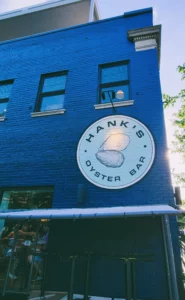 The best feature of Hank's Oyster Bar is, of course, its selection of oysters. Serving up both East and West Coast oysters, they have what is probably the most diverse selection in the region. Chalkboards in the restaurant change with the daily selections, and the servers are always ready to describe each oyster to you. Is it small, plump, briny, or sweet? They even have their own proprietary oyster, the Salty Wolfe, which is harvested right here in Virginia. And the oysters themselves? They're fresh, delicious, and always served with the signature horseradish, lemon, and mignonette.
One of our favorite things to do at Hank's Oyster Bar is to slip in on a weekday for the oyster happy hour. Every Monday to Friday from 4-6 p.m., you can get half-priced East Coast oysters and drink specials at the bar. Since the full menu is also served at the bar, it is an unbeatable deal. We often find ourselves sitting at a high-top table, splitting plates of seafood, and balancing it all around a huge ice tray filled with raw oysters. On this visit, we happily put down 18 oysters. While my dining partner ordered a local beer off the happy hour menu, I opted instead for a specialty cocktail, the Dress Me Up in Strawberries. Vodka, strawberry-basil syrup, and soda water made for a refreshing, sweet drink with a tangy finish. The sweetness was only enhanced by the fact that $2 from each drink order is being donated to a local LGBTQIA community center in honor of Pride Month. I'll drink to that!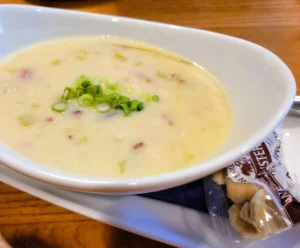 Aside from their amazing oysters, Hank's Oyster Bar menu also does not disappoint in the cooked food area. Their soups are what you'd expect to find at any seafood joint, such as lobster bisque and New England clam chowder. But as always, Hank's Oyster Bar has put a unique spin on the classics. The New England clam chowder is not your typical "stand your spoon up in it" chowder. Instead, the flavor you expect comes from a delicious blend of chopped vegetables, clams, and a delicate bacon flavor in a creamy broth that doesn't sit heavily in your stomach. The lobster bisque is one of my favorites. Perhaps less creamy than the traditional, this broth's sweet but spiced flavor is unmatched. Stacked in the middle of the soup, there are large pieces of fresh lobster. Both the clam chowder and lobster bisque, in classic form, come with a bag of oyster crackers for dunking, combining the traditional and the modern for a comfortable, home-cooked feeling.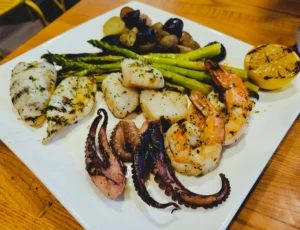 With our soups and many oysters, we opted to share the mixed seafood grill. There is nothing pretentious about this dish; calamari, baby octopus, scallops, and shrimp are simply grilled to a beautiful sear and served alongside baby potatoes and asparagus. When the seafood is fresh, there is little more it needs than a squirt of lemon and a sprinkling of parsley, which is how this dish is served and enjoyed. With several pieces of each on the dish, it was a great option for two people to share. What more could you want out of a seafood restaurant than, well, a plate of good seafood?
If you haven't saved room for dessert, Hank's Oyster Bar will still provide. They deliver chunks of rich dark chocolate to the table with every check. It's these little touches that bring their devoted fans back time and time again. At Hank's Oyster Bar, you feel welcome and relaxed. Its upscale vibe is balanced by its friendly staff and homey atmosphere. You could be sitting along the shore in any East Coast town, enjoying fresh seafood and good friends.