Harmony Cafe offers affordable yet delicious Chinese food.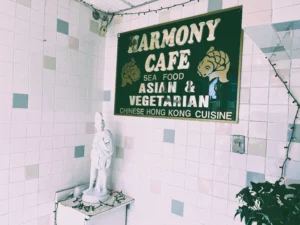 Harmony Cafe is a Chinese restaurant I had never been to before this visit. It's located in Georgetown, which is a D.C. neighborhood that is notorious for having everything except budget-friendly options. You can find just about anything in Georgetown, except maybe a place to park your car. On this occasion, I was actually able to go to lunch at midday. Parking was slightly easier than it would've been compared to the evening or a weekend. It's a relatively busy area with just enough other activities and places to shop (e.g., bars, a movie theater, clothing stores) that you won't have any trouble finding something else to do before or after eating.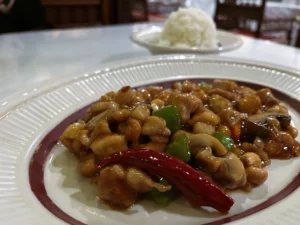 If you're new to D.C. or similar metropolitan areas, you may be surprised to see that as soon as you walk into the establishment, you are greeted by stairs. In cities like this, real estate is at a premium, so heading into a place and then immediately having to ascend or descend a staircase is normal. So, when you walk through the door at Harmony Cafe, just make your way down.
Not only was parking easier during this time of day, so was finding a seat inside the restaurant. There were certainly other patrons there, but the wait to be seated was virtually nonexistent. As soon as I entered, a server showed me to a table. The server also quickly supplied me with a menu and water.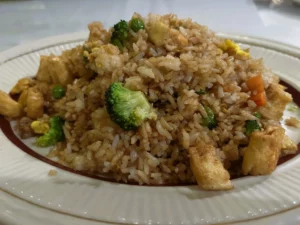 I tend to be one of those folks that leans toward ordering a familiar dish as opposed to being somewhat adventurous and trying something I've never had before. On this day, however, I decided it was a good time to do both. I asked for tofu fried rice and a cashew chicken dish. The former I've had many times before, while the latter I've never had.
My requested dishes were on my table almost as quickly as I was seated and given a menu. I was pleasantly surprised by my nontraditional pick, the cashew chicken. More specifically, it was the perfect degree of spiciness. Threading the needle between a pleasant and notable spice level versus being hot for the sake of being hot is an art. They nailed it at Harmony Cafe.
While there was definitely a trend of speed at Harmony Cafe, an exception was feeling rushed to finish my meal. Once I received my entrées, the server demonstrated the perfect balance between checking in on me to see if I needed anything and not standing over me the entire time. I was thoroughly impressed with the attentiveness and efficiency of the Harmony Cafe staff.