Authentic Northern Indian & Pakistani dishes served up at Khyber Grill.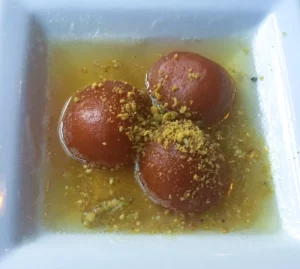 Khyber Grill was opened in 1994 in Houston by Mickey Kapoor and his wife. This couple takes immense pride in selling patrons high-quality, authentic North Indian cuisine and Pakistani dishes for fair prices and good portion sizes. Mickey Kapoor owned some other Indian restaurants before this one, but Khyber Grill is his best creation that is still going strong to this day. Khyber Grill sells a variety of curries, barbecue platters, biryanis, and desserts. It's closed on Mondays, but open every other day for lunch and dinner with a break between 2-5:30 p.m. The curry orders come with a small salad, rice, and naan. Everything here is made fresh daily.The outside of Khyber Grill is appealing in both humor and its own unique style. The sign is a deep maroon color with thick white letters on it. Underneath the sign is a humorous or sarcastic phrase that varies weekly or so. There are windows in which one can tell Khyber Grill is a well-designed restaurant with a bistro-type setting to it. Once customers walk in, they see the owners and staff throughout the restaurant, as well as some art on the walls. The interior is neither too fancy nor too casual. It is a nice setting for a date, family gathering, or any small get-together. The lights inside are dimmed making the restaurant calm and cozy, but it is simultaneously alive with ambiance.
I ordered their signature butter chicken for dinner on my most recent visit here. This dish is considered Khyber Grill's main specialty and one of their most popular menu items. It is my personal favorite, and it was fantastic in taste, spices, and texture. My meal was extraordinarily delicious and filling without being too greasy or salty. The gravy in this butter chicken was rich with aromas and had just the right amount of cream in it. It also had a nice tomato flavor, and the chicken was abundant and tender. The rice and naan that came with it were also superbly prepared. The rice was fresh, loose, and slightly spiced with a hint of sweetness, while the naan was puffy and a little oily. The small salad was refreshing and simple, with chopped cucumbers, tomatoes, black pepper, and lemon juice. This visit was not only amazing in terms of taste satisfaction, but it was also well balanced with food groups.
The service at Khyber Grill is well organized, friendly, and classy. The staff is truly attentive, welcoming, and highly informative on menu selections. The mood is incredibly positive, as evidenced by how pleased customers are with their orders and service on each of my visits. This restaurant is also exceptionally clean and the wait on orders never seems to take too long. The food is spectacularly consistent, with each meal tasting the same and having the same meat-to-sauce proportions. Khyber Grill is a must-try when looking for amazing North Indian and Pakistani dishes in Houston.