The secret to making life better? Phuong Trang.
I've been to Phuong Trang at least 10 times over the four years I've been in San Diego. It shines as one of the most unique of Vietnamese restaurants, where you can take a party of two or even a group of 10+ people, as I've done many times.
Phuong Trang is located on Convoy Street in San Diego. If you're familiar with the San Diego area, you know by reputation that Convoy Street has the best and largest selection of Asian restaurants. Phuong Trang specializes in Vietnamese cuisine, with a menu that features pho, broken rice dishes, vermicelli plates, and my favorite, rice paper wraps.
I came here with a party of two on a Sunday at lunchtime. We came specifically to build our own rice paper wraps, so we ordered the rice paper wraps with chargrilled pork meatballs. What makes Phuong Trang unique is the DIY (do-it-yourself) experience of wrapping your rice paper rolls. All rice paper wrap dishes are served with rice paper, fresh lettuce, herbs, cucumbers, vinegar carrots, white radish (daikon), pineapple, and fish sauce in addition to the meat ordered.
First, we wet the rice paper in warm water and spread it out on our plates to soften. Then, we added the pork meatball, lettuce, cucumbers, pickled daikon and carrots, mint, cilantro, and pineapple. We practiced folding the rice paper over the food, tucking it in the sides, and then
rolling it to create our wrap. Finally, it was time to dip it in the fish sauce and enjoy! Once we devoured the first wrap, we were able to make our second one fresh and dig in again.
The pork meatballs were savory and paired flawlessly with the freshness of the lettuce, crispness of the cucumbers, and sweet and sour taste of the picked daikon and carrots. My favorite part is that you control what ingredients you want to add and then show off your wrapping skills to your tablemates! One rice paper wrap dish can easily feed a party of two, and if you're looking for a party, the oven-roasted catfish is where it's at.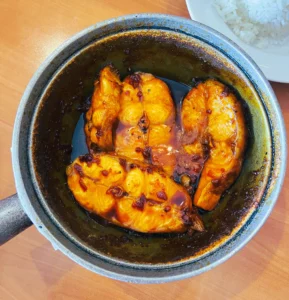 The oven-roasted catfish is Phuong Trang's ultimate specialty item, which I've ordered for birthday parties, graduation dinners, and showing off to friends and family. A whole catfish, which is longer than the length of my arm, is baked and topped with caramelized fried onions, shallots, and crushed peanuts before being served to the table on a large, silver tray. It's served with rice paper wraps, fresh vegetables and herbs, fish sauce, and a side of vermicelli noodles. The catfish is cooked to perfection, incredibly savory, and melts in your mouth. Add that to your rice paper wrap, along with fresh vegetables that add light, sweet, and crunchy sensations, and it's the ultimate dining experience! One catfish serves approximately six people. If you're planning to get the catfish, it's best to call Phuong Trang two to three days beforehand to ensure they have catfish in stock. The catfish is charged at market price per pound, so be sure to also ask how much it will come out to.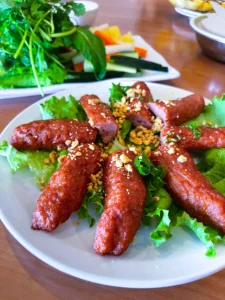 I have especially fond memories of sitting around a table with friends and family, aweing over the catfish, and enjoying each other's company while eating delicious rice wraps. Phuong Trang creates a fun experience to wrap your own rolls with some of the yummiest ingredients with your loved ones!
Even if you're not in the mood to build your own rice paper wraps, there are countless other items on the menu to order! Since we came with a party of two and could not eat the entire oven-roasted catfish by ourselves, we ordered the catfish sautéed in fish sauce, which is served with rice. This catfish is different from the whole-baked one, as it is braised in a superbly rich and savory caramelized fish sauce. The saucy catfish is the ideal pairing to the fresh, steamed white rice.
Parking on Convoy Street is notoriously difficult, but rest assured, Phuong Trang has a large parking lot. There is spacious indoor seating, with ample tables that can seat large parties. Whenever you walk in and see a large party getting served plates of fresh vegetables, rice paper wraps, and vermicelli noodles, you now have inside knowledge that the oven-roasted catfish is soon to follow. Be sure to try it one day!