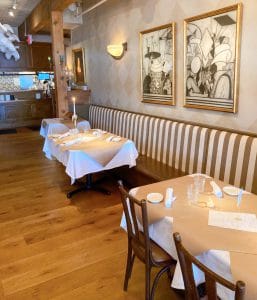 When searching the Internet for nice places to dine in Seattle, Washington with some friends, the Pink Door continued to appear at the top of the list. Since it was the Saturday evening of a holiday weekend, we knew it could be a bit of a wait, but we were determined. Once we found the entrance, a door in a back alley by Pike Place Market, we made our way down the stairs and overheard that the party in front of us would have at least an hour wait. However, luck was on our side. A party of four cancelled their reservation as we were placing our name on the list, and they were able to seat us immediately. The evening was already off to a wonderful start!
Aesthetically, the Pink Door is a bit all over the place, but in the best way possible. A mix of Tuscan and industrial design elements are decorated with splashes of gold, Italian paintings, and collaged walls of framed mirrors. Over one table loomed a large painting of naked babies. The view of Elliott Bay shone through the massive windows, letting in loads of natural light. Our hostess walked us back to our table while sporting her fashionable bright blue UGG boots, which set the mood. Looking around, all the servers and hostesses had a similar spunky yet tasteful vibe to their outfits. The Pink Door is classy but knows how to have a little fun. Welcome to Seattle!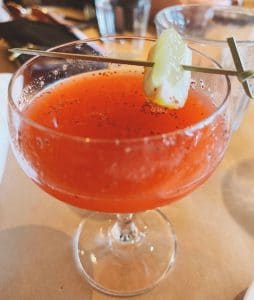 Once we settled in, our server, Zachary, came by to get our drink orders. From their drink list, we ordered the "Yo Mikey," a delicious concoction of bourbon, apricot brandy, rhubarb syrup, and lemon. The favorite of the table was the "Justice for George Floyd," which is a fresh strawberry puree, vodka, St. Germain, and lemon. The drink was fruity, light, and refreshing, and because a dollar  from every drink sold goes to the NAACP Legal Defense Fund, it tasted even sweeter.
While we discussed our game plan for the entrees, we had to give the "Ahi Tuna Crudo" a try. Topped with fried capers, smoked Castelvetrano olives, microgreens, and orange citrus vinaigrette, this appetizer was refreshingly unique. We were not planning to get this dish and were just going to stick to the complimentary bread and oil, but a server walked by with this creation and we were sold! We topped our bread with the crudo, sort of like a bruschetta, and it was delectable.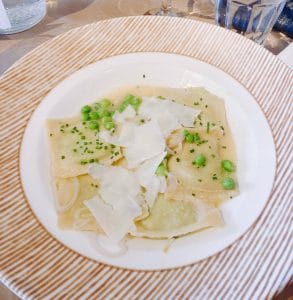 Moving on to the main course, everything served was delicious. Two of us ordered the "Fresh Ravioli," which is stuffed with seasonal spring peas, ricotta, and fresh herbs and sauced in pecorino and butter. Not being a huge fan of peas, I was a bit hesitant, but Zachary reassured me this would  be made with a trifecta of sugar snap peas, snow peas, and fresh English peas blended with ricotta. It was rich with flavor but on the lighter side for a ravioli. I just might be a fan of peas after this meal! Another item we ordered was the "Spring Risotto," which, like the ravioli, was very pea-forward. The protein was fresh gulf shrimp mixed in with the risotto, English peas, lemon zest, and pea vines. It was creamy with a hint of citrus, and a perfect complement to springtime in the Pacific Northwest.
 Prior to the main course, Zachary convinced us not to order another cocktail and instead try the 2019 Sylvaner from  Valle Isarco, Alto Adige, Italy. This white wine was very fruit-forward with peach undertones. Per Zachary's notes, it complemented all our dishes very nicely, and there was not a drop of wine left in the bottle by the time we left the table.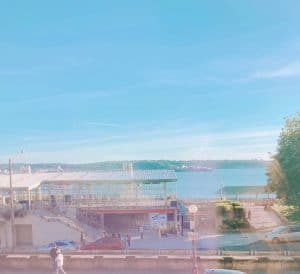 I would come back to the Pink Door in a heartbeat. From the moment we walked in the door to the moment we left, I was blown away by the atmosphere, service, and food. While we went to the Pink Door for a girls' night out, it would also be perfect for a date night.