Spitz Mediterranean is more than just good food.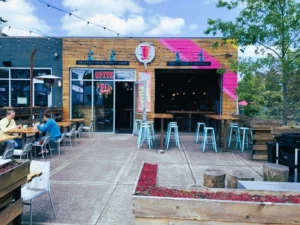 Spitz Mediterranean Restaurant has been on my radar to check out for quite some time. It's in my neighborhood in North Portland, so I drive and even walk my dog by it all the time. Its gluten-free friendly menu and street-style, colorful art on the building instantly drew me in.
Right away, you feel the restaurant's effort to give the "street food" experience despite being a brick and mortar. For example, there is a large seating area along Killingsworth Street, and the restaurant behind it can open a large garage-type door to blend the line between the inside and the outside (weather permitting).
Inside, the walls are lined with colorful street-art murals featuring musicians playing instruments and athletes wearing Adidas — a nod to the restaurant's proximity to the large Adidas headquarters. Even at 11 a.m. on a weekday, Spitz was busy with small groups meeting for lunch.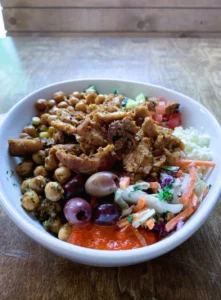 I didn't realize it when I ate there, but Spitz has about 12 locations total across California, Oregon, Utah, and Minnesota, with more on the way. However, it still has a local and intimate feel, rather than a commercial one. I hope it keeps this vibe as it expands. The brand was started by two friends who wanted to bring a healthier version of the Mediterranean street food popular in European cities to the United States.
I'd say they succeeded. I ordered their Remix Bowl with chicken. It was a quinoa-based bowl with fresh veggies, crispy chickpeas, feta, and harissa, topped with a creamy dill tahini sauce. It was seriously one of the best salad bowls I'd ever eaten. Everything had the right proportions and amounts. I didn't feel like there was too much or too little of any component, and I wasn't overly full at the end.
There was a great mixture of textures and flavors. The chickpeas and cucumbers added crunch, while the dressing added creaminess to the salad. The seasoning of the chicken was also amazing.
I appreciate that Spitz is able to accommodate a variety of diets, such as gluten-free and vegan. They even have a vast drink menu with some very fun, inventive cocktails. While I wasn't drinking at that time (11 a.m. is a bit early for me to start!), I definitely want to come back to try a few.
Overall, Spitz is a vibrant, well-conceived, and delicious restaurant. I have already told several people about my time there because it was so memorable. I am sure I'll be back.