A 30-Year-Old Okla
homa City Favorite — The Metro Wine Bar & Bistro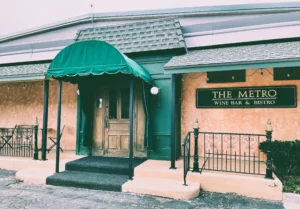 Oklahoma City is becoming a foodie's paradise. New and flavorful cuisines, exciting atmospheres, and entrepreneurs willing to up the game on innovation. But The Metro Wine Bar & Bistro is a 30-year-old favorite that has consistently brought world-class food to the area. With an ever-changing menu, this restaurant will remain at the forefront of the food scene. They are also a locally owned business which gives back to the community it serves. During Oklahoma City Restaurant Week to benefit the Oklahoma City Food Bank, it donated a portion of the proceeds from dinners purchased during that week.
My husband and I were in Oklahoma City recently and stopped by The Metro for an early dinner. Stepping through the door into the elegant, softly lit atmosphere, we were immediately greeted by the hostess and seated at a corner table.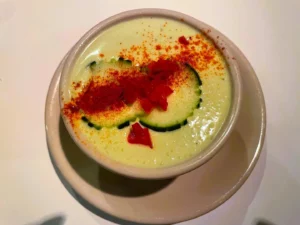 The Metro has over 300 wines in its cellar and are eager to assist you in choosing the one which will pair perfectly with the food ordered. We found the staff to be quite knowledgeable—and it is no surprise since many of their staff have been with them for over 15 years. I appreciate the fact that they change their wine-by-the-glass list to introduce their customers to various new choices. I love to try wines that are new to me without having to commit to a full bottle.
We began our dinner with their summer appetizer—Lobster Ravioli. Meaty chunks of lobster with mushrooms and ricotta were stuffed inside homemade pasta. The addition of an heirloom tomato and fennel salad on top was an interesting combination. The distinct flavor of fennel brought this dish up a level. The light tarragon beurre blanc sauce was perfection.
I added a cup of the chilled cucumber avocado soup to my meal. I had tried this before and was not leaving this restaurant without another serving of this creamy, delectable soup. The day we visited, the weather in Oklahoma was a blazing 100 degrees. The cool refreshing flavor of summer-fresh cucumbers blended with avocado and kissed with a hint of heat hit my palate, and Oklahoma's heat was forgotten.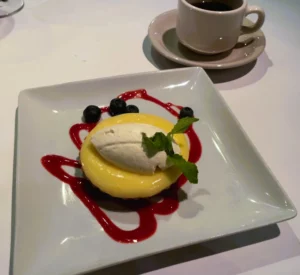 I had chosen a selection from the menu for my main course, but when the server described one of the specials, I quickly changed my mind. The red snapper, breaded and perched atop a mountain of coconut risotto, sounded too intriguing. I am glad that I made that choice. The snapper had a crispy but delicate crust. And the risotto was wonderful, but the Japanese curry sauce, with its layer of spices and earthy flavor, added the most amazing complement to this dish.
My husband chose the Parmesan Risotto. A luscious combination of parmesan risotto with tender chunks of burgundy braised beef and kalamata olives.  
We could not resist adding a piece of lemon tart with a topping of whipped cream and raspberry sauce exquisitely swirled on top. The tangy lemon flavor brought memories of my mother's most heavenly lemon pies. A fabulous way to end our dinner.
I love the addition of new restaurants, cuisines, and concepts coming into Oklahoma City. Still, I will also continue to support the grand old restaurants which have paved the way for them by cheerfully serving consistent quality food like The Metro.