Washington D.C.-based Chef  José Andrés  gives back globally through World Central Kitchen.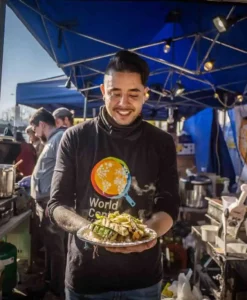 Food is essential to life. When disaster strikes, people are often left without a source of food, especially nutritious warm meals. In the wake of a natural disaster or human-caused crisis, food is necessary. Still, it can be pushed to the back of the priority list when one has had to flee their home, lost all their personal belongings, or been separated from their family. So, how do people feed their families in their hardest moments? 
Award-winning Chef José Andrés has stepped up to solve this global issue. In 2010, he founded World Central Kitchen after an earthquake devastated the country of Haiti. Since then, he and his team have been raising money and feeding people during their darkest times all around the globe, from Ukraine to Syria to right here in the United States. Chef José Andrés said it best, "Wherever there's a fight so hungry people may eat, we will be there – we must be there."  
This April, Savory Traveler is featuring restaurants and chefs that make a positive difference in the world. Chef José Andrés is the epitome of this theme, and his work is feeding people in need around the globe.  
Who is Chef José Andrés?
José Andrés is a world-renowned chef and humanitarian. He was born in Spain and later moved to New York City before settling in Washington, D.C. 
In the 90s, Chef José Andrés led the kitchen at Jaleo in Washington DC, launching his expansive culinary career. Jaleo is a Spanish tapas bar true to his roots. Here they serve up Spanish staples such as paella Valenciana, patatas bravas, and dishes featuring jamón ibérico a Spanish cured ham. Jaleo also offers a popular Sangria hour with both red and white sangrias and tapas at a discount, but the true star of the show is the chef's tasting menu. Choose from three different chef-curated options and add a beverage pairing for the ultimate Chef José Andrés Spanish tapas tasting experience! After its success in Washington, D.C., Jaleo has expanded to open additional locations in Chicago, Disney Springs, Las Vegas, and Dubai.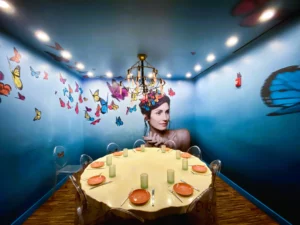 Following his success at Jaleo, he continued on his upward trajectory by building a partnered restaurant group that has dominated the food scene of the city and beyond. With them, he continued to open more Washington D.C. classics such as Zaytinya, a Mediterranean-focused restaurant, and Oyamel, highlighting Mexican cuisine. Zaytinya now has a New York City location as well.  
My personal favorite of these restaurants in the Washington D.C. area is China Chilcano. This restaurant showcases the rich diversity of Peru's foods and culture. Cuisines include Criollo, Chinese Chifa, and Japanese Nikkei, which are all part of everyday life in Peru's capital Lima. In one meal, you can eat Chinese fried rice, yucca fries, ceviche, chow Mein, and of course, there are pisco sours, the national drink of Peru. If you're touring around Washington D.C.'s National Mall, be sure to snag dinner reservations at China Chilcano since it is within walking distance from some of the famous sights of Washington D.C., like Ford's Theater and National Archives Museum, where the Declaration of Independence is on display. They are even offering specials for the National Cherry Blossom Festival through April 16th.  
While I love China Chilanco, there is one Chef José Andrés restaurant I have yet to have the pleasure of dining at that I am dying to try, Minibar. This restaurant is the most famous of all the chef's restaurants; it holds two Michelin Stars! Minibar is an intimate dining experience fueled by avant-garde cooking styles in a combination of art and science to wow the imagination and the tastebuds. For $350 per person, you get to explore the musings of one of the world's greatest chefs in a communal dining setting. Make your experience even better by adding in a beverage pairing for $215 per guest. This is the ultimate Chef José Andrés dining experience, and I hope I get to try it one day soon! 
His restaurants showcase many different types of incredible cuisine. From Spanish and Peruvian to Mexican and Mediterranean, there really is a restaurant for everyone to enjoy. Offering top-notch dining experiences is how he got his start. However, after being in the restaurant industry for a while, he took the leap to create World Central Kitchen , a non-governmental organization (NGO). Aligning with his passion for food, its stated purpose is to serve up healthy meals in response to natural disasters as well as humanitarian and community crises both in the United States and around the world. 
What is World Central Kitchen?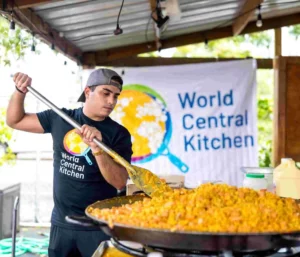 World Central Kitchen  is often the first to respond with food assistance on the frontlines of crises and disasters. And they are dedicated to building sustainable food systems with local solutions to help people power through the hardest moments of their lives. He understands that food brings comfort, food brings hope, and food builds community. Supporting people through prepared meals and not just raw ingredients allows people going through tough times to have a moment of normalcy and peace while they try to rebuild their lives.  
After World Central Kitchen's initial work in Haiti in 2010, Chef José Andrés has delivered cooked meals to people in the Dominican Republic, Nicaragua, Zambia, Peru, Cuba, Uganda, The Bahamas, Cambodia, Ukraine, and the United States. This list is continually growing as more and more humanitarian crises spring up around the globe due to war, earthquakes, and severe weather events. In 2020, World Central Kitchen ramped up work to support communities during the Covid-19 pandemic.  
As a front-line disaster response organization, World Central Kitchen mobilizes quickly as urgent needs rise in countries all over the world. They work with local teams to cook and provide meals to anyone who needs them. They partner with local restaurants, food trucks, and other services as fast as possible when disaster strikes. Connecting with local organizations and businesses allows World Central Kitchen to act as fast as possible while also giving an economic boost to local businesses. This is a new model for disaster relief, and it is helping World Central Kitchen reach millions of people when and where they need it.  
World Central Kitchen has made a substantial commitment to fighting the climate crisis. Many of the disasters they respond to are due to the growing effects of climate change. In 2021 Chef Andrés and World Central Kitchen developed their Climate Disaster Fund to deliver meals following severe climate episodes such as hurricanes, flooding, fires, and other devastating storms. Their goal is to raise one billion dollars to serve people impacted directly by extreme weather.  
Do you want to support World Central Kitchen's incredible efforts? You can make a difference of your own by getting involved. They have distributed over 200 million meals around the world already, and that total grows by the day as wars rage on and climate disasters hit. You can donate to support World Central Kitchen's mission and help keep stomachs full in some of the world's harshest circumstances. If you can't donate, consider other ways to get involved, like volunteering.  
Volunteer Opportunities with World Central Kitchen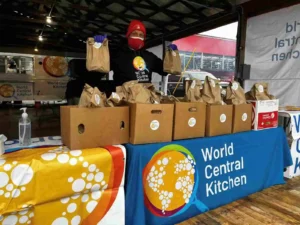 Volunteers are essential to World Central Kitchen's operations and success. Due to the circumstances of their work, they cannot predict when or where volunteers will be needed until a disaster happens. The best way to be in the loop is to create a profile on their Volunteer Hub to view listings as they are posted. You can give back to your local community or even travel to where volunteers are needed. It is important to note the volunteer assumes all travel costs.  
Volunteers and the donor community are what make World Central Kitchen's work possible. There are a variety of ways that you and your friends and family members can get involved in World Central Kitchen's work. Volunteers are usually tasked with things like food preparation, sandwich making, meal delivery, and loading and unloading kitchen and food supplies. There are many different types of jobs you may fulfill while working as a volunteer. All volunteers will be trained on-site once you report for service. A requirement in order to volunteer is that you must be fully vaccinated against Covid-19. To learn more about volunteer opportunities with World Central Kitchen visit their website and create a volunteer profile to connect with local teams. 
Recognized for Making A Difference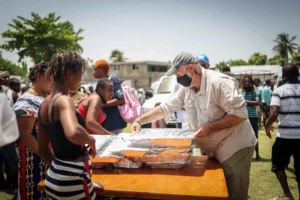 Chef José Andrés is, by almost any measure, a hero. He has helped to feed hundreds of millions of people in need, grown businesses and restaurants into culinary masterpieces, and given back his time and money to communities everywhere. He is a leader of the people and does so in a humble way. He knows how to use food to connect people in both everyday life and when their world is crumbling around them. He relates to those who are in difficult situations, trying to make their lives better for themselves and their families.  
His accolades speak for themselves. He is more than deserving of these awards and more. To date, he has been awarded some of the top honors in culinary and humanitarian achievement, including but not limited to: 
Chef José Andrés' accomplishments keep coming, and each one is earned with hard work and determination. You can learn more about his work and World Central Kitchen through the documentary We Feed People by National Geographic and his podcast Longer Tables, available wherever you get your podcasts.  
Next time you visit Washington D.C., or the other cities around the world where he has restaurants, be sure to grab a table and savor a bite to eat and enjoy a refreshing cocktail. It always feels good to support restaurants and chefs that are doing good for the betterment of society. We cannot wait to see what Chef José Andrés does next as he changes the world for the better, one meal at a time.