The 404 Kitchen is a restaurant that is a good choice, no matter the occasion.
Not only is 404 Kitchen a place that I keep coming back to as a local, but it is also an ideal spot to take out-of-town guests to experience Southern fare that they cannot get at home.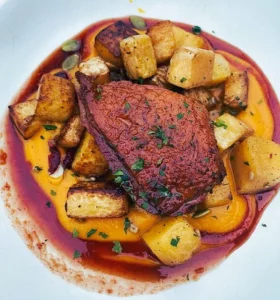 It is nestled in a prime spot within the busy Gulch neighborhood, which is filled with a mix of locals, tourists, and business travelers. The ground floor is home to Gertie's, which is a beautiful, oval-shaped bar with an impressive selection of bourbon and cocktails. Gertie's serves a full menu and has a nice patio outside, though you must order food and drinks at the bar on most nights because there are no dedicated servers on the patio.
The full restaurant is located on the second level and has multiple dining areas including a large outdoor space with beautiful string lights that create a nice ambiance. The main dining room of 404 Kitchen is simple, but it has an upscale vibe thanks to the chandeliers and rugs that elevate the space without making it stuffy.
I have favorites on the menu as a regular, but I was excited to sample some new items during my most recent visit. The mushroom toast appetizer with confit mushrooms, herbed goat cheese, lemon, and banana chips was how we started our meal. The toast was already sliced and had a nice spongy bread with a slight crunch on the bottom — just how you want it. Each bite was filled with an excellent sampling of all the toppings, and we quickly scarfed down the four pieces.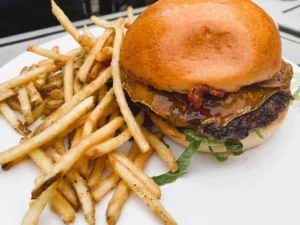 Our entrée selections were the Moulard Duck Breast and the 404 Burger. Now, I typically have an ax to grind with people who order burgers at a nice restaurant. Why would you order something that is good anywhere you go instead of sampling something elevated? Well, I was eating my words when I took a bite. It was served with cheddar, bacon, confit onions, and a secret sauce that was exquisite. I am truly not a big burger fan, but this one was really something special. Despite my feelings about ordering a burger at such an establishment, I would not mind sampling it again. The fries, served with ketchup, were superbly seasoned and crispy.
I am sure it is no surprise that I ordered the duck with golden rutabaga, sweet potato, sunflower seeds, and plum duck sauce. The duck truly made my night and any burger envy I experienced was quelled when I had my first bite of the tender duck with its flavorful sauce. It was so nicely balanced and executed that I savored the meal and had leftovers to take home. However, I am not sure it made it through the night since I had to sneak some late-night bites from the fridge.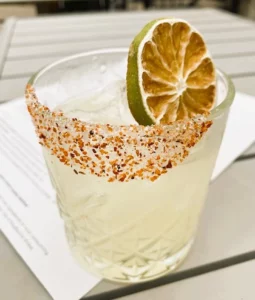 While we did not order some of our favorite 404 Kitchen menu items during our most recent visit, I have to highlight a few. First, the whole smoked chicken with homemade sauces is perfect for a group, especially if you are entertaining guests who are not from the South. The frascatelli pasta with pork bolognese and a cornbread side are also phenomenal, but honestly, you cannot go wrong with ordering anything on the menu. I promise you will be full and raving.
I mentioned the cocktails at Gertie's Bar earlier, and their menu has fantastic drinks, but my favorite one is the 404 Margarita. The rim is covered with a seasoned salt and the cocktail is made with Blanco tequila. They can make it spicy if you like the heat like me. For any bourbon fans, the 404 Old Fashioned is stunning. They take it to a different level with bourbon, homemade brown butter, pecan syrup, and bitters. It may sound odd, but the richness adds a well-rounded flavor to the bourbon and it is truly something unique.
The 404 Kitchen is a perfect Southern restaurant that will be a memorable experience for all, and a highlight of any visit to Nashville.