The Yellow Porch – an approachable Nashville staple with delicious food that doesn't break the bank
Nashville's food scene has blossomed with a plethora of new restaurants, and we have been truly lucky to experience the influx of options our "it city" provides locals. While I am excited and energized by these changes, it has sadly also taken some favorite Nashville original restaurants that were ahead of their time.
I am so glad that The Yellow Porch has sustained its presence in Berry Hill despite the growing city and challenges posed by the pandemic. It has been a Nashville original since 1998 and has solidified itself in the food scene as a beloved spot that locals have frequented for decades. Located off bustling Thompson Lane, it is easy to miss if you are not paying attention, but it offers a small, free private parking lot.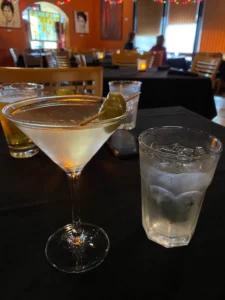 Since there are so many choices in Nashville, I was reminded of The Yellow Porch by a friend who has been a loyal guest since he was a child (and he still orders the same dish on every visit). I was able to come twice within a short period of time and brought some family here for a weeknight dinner.
That is the other benefit of the Yellow Porch; it is a favorite and gets busy, but it is also relatively easy to get a reservation if you are looking for a last minute option. We came in at 5 p.m. on a Wednesday and it steadily became busier with most tables occupied during prime hours. Our server was excellent and immediately went over the menu, including the popular mainstay dishes and specials for the evening. I have been on a dirty martini kick lately, so I started off my meal with one that hit the spot and was very strong.
We began the meal with the Sweetwater Tennessee Sharp Cheddar fritters with sweet chow chow and red pepper aioli, and the Prince Edward Island mussels with garlic white wine broth and Tuscan bread. The fritters are a staple and I understand why. They were extremely flavorful and perfectly balanced with the aioli. Although they were rich, we found ourselves unable to stop eating them. The mussels were really fresh and the broth was delicious to sop up with the superbly toasted bread.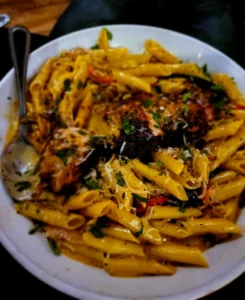 For entrées, I had the pan seared salmon with risotto, asparagus, mussels, and shrimp. It was rich but very flavorful, and the salmon was cooked just right. I enjoyed having the mix of different seafood and the lovely creamy risotto. The Cajun chicken pasta was a special of the night, but they should truly consider having it on the menu full time because it was phenomenal.
I am typically more of a fan of marinara, but the cream-based sauce with the Cajun pasta was fantastic. The chicken was slightly blackened and ideally seasoned. It also contained small amounts of red pepper that added some nice color and balance. The duck breast entrée was marinated in lemon basil and served with heirloom tomatoes, caramelized onions, spinach, and a potato tower. We liked the duck breast, but the other two entrées were outstanding and the clear winners.
We did not come close to finishing our food and had large to-go containers to accompany us home. It started pouring rain, so we ended up enjoying some after-dinner drinks in the dining room while catching up, and our server was accommodating and delightful.
The Yellow Porch is a classic Nashville dining experience that has stood the test of time and is a hidden treasure in our growing city.