Atria – farm-fresh modern American fare in Flagstaff

.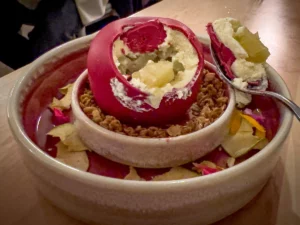 If you are a foodie looking for a culinary adventure in American cuisine, Atria Restaurant's Eight Course Chefs Tasting Menu is an experience you won't want to miss. 
Located in the historic district of downtown Flagstaff, Atria Restaurant offers an upscale yet casual atmosphere. Fancy attire is not required. The stylish décor in rose, sage, and beige colors creates a gentle, soft feeling in a cozy and contemporary setting. 
When we found a parking spot directly in front of the restaurant, I knew it was going to be a good night. 
Atria Restaurant hosted my husband and me. However, all opinions are my own.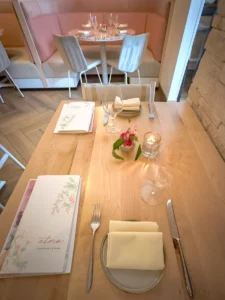 The Fine Dining Tasting Menu 
A chef's tasting menu comprises multiple small plates delivered one after another. The purpose of a meal like this is a deliberate tasting of various dishes emphasizing the culinary sensibilities and skills of the chef. The main advantage over a standard form of dining is that you are paying for an experience rather than just a meal. Another advantage is that you try something you've never tried before. 
In this case, I tried beef tartare and bone marrow for the first time. The tartare tasted rich, and the bone marrow was delicious when spread on the crusty bread. 
Smaller plates are used because each course is a small portion. There are no side dishes. I like this dinner format because it keeps the meal interesting and exciting, and I could concentrate on the taste of the food.   
Each course was presented with flair and an explanation of the ingredients. The flavors were well-balanced and refined in preparation and presentation, so I could relish each bite. 
Wine and Spirits at Atria Restaurant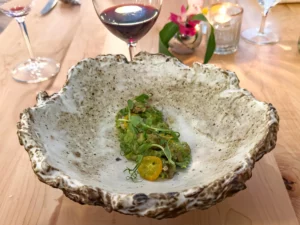 Atria Restaurant's wine pairings perfectly complemented every dish, and their collection of spirits was impressive. I also enjoyed the refreshing local spring water from the Springs of Sedona. My husband was pleased that Atria Restaurant carried his favorite gin for cocktails. 
Eight Courses of Delicious American Cuisine with a Southwest Twist 
First course – Cold Oyster, served on a heaping bed of seaweed.

 

Second course – Hot Oyster, served with sprigs of juniper stalks and berries.

 

Third course – Coal Roasted Beetroot, served in a mound with delicate dill sprigs.

 

Fourth course – All About Seafood, artfully served in a seashell.

 

Fifth course – Bread, Beef Tartare, and Bone Marrow, served on a hibachi grill with smoldering herbs underneath. The bone, sliced in half lengthwise, cradled the hot marrow mixed with seafood. It was delicious spread on the crusty bread. 

 
Sixth course – Scallop Truffle Amaranth, served on a seashell, embraced by seaweed strands, and sprinkled with rose petals.

 

Seventh course – Pasta, decorated with sweet pea vines and sliced small, golden tomatoes.

 

Eighth course – Honey Chicken Cutlet with a crunchy crust and served with a honey dip.

 

Bonus course – Australian Wagyu served with asparagus puree. It resembled petit fours with flower petals and mushrooms.

 

Palate cleanser – Strawberry Yuzu, served on a black pedestal in a strawberry-colored artisan bowl.

 

Dessert – The dessert was amazing, adding a perfect finishing touch to an outstanding meal. The white and ruby chocolate encased apple compote, a spiced cheesecake mousse with oat crumble on the outside, was served with apple chips and flower petals. A second dessert was light lemon curd and mixed berry compote with a meringue biscuit.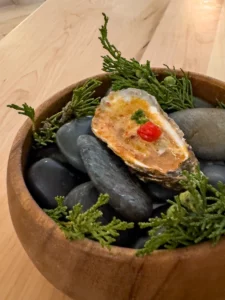 The Staff
The staff did not wear uniforms or aprons. While we had a primary waitperson, several people delivered exquisite small plates and glasses of wine to our table. Each of them explained what we were served with knowledge and expertise. 
During our evening at Atria Restaurant, I observed the staff clearing, cleaning, and setting the tables for new guests to arrive. Every setting was precisely placed with the knives aligned with the bread plates, napkins, and water glasses. It was remarkable how everyone set the tables with such precision. It was a pleasure to watch this performance. 
Final Thoughts
We were not rushed during the meal and spent a longer time than usual at Atria Restaurant. Four hours from beginning to end, and we enjoyed every minute.  
Because I'm gaining experience with tasting menus, I look forward to more. When I visit Atria Restaurant again, I will try something else on the fine dining menu. Because they use the freshest, highest quality, seasonal ingredients, I am positive it will be another wonderful night of dining.