Barca Pier is a taste of vacation right on the Potomac River.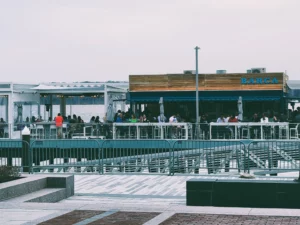 There's something about being near the water, sipping a drink with the wind in your hair, that instantly makes you feel like you've been whisked away to some far-off locale. Barca Pier embodies this feeling with their overwater restaurant and bar. Built on a shipping pier with an industrial freight container serving as the bar and main focal point, Barca Pier offers views of the Potomac River and National Harbor, Maryland in the distance. Barca is actually split into two sections: the fully outdoor pier and their indoor wine bar, which lies just off the dock on the main pedestrian strip that runs along the river.
An unseasonably warm day in March found us walking around near the water, and the busy Barca Pier with its beautiful location and unique bar drew us in. We were lucky to find a high-top table for two that had just opened, and we were seated quickly in the front bar area. Diners with reservations are seated behind the bar at more traditional tables with a better view of the water and a full canopy overhead in case of inclement weather. The menu primarily consists of small plates inspired by Spain and other Mediterranean countries, which was perfect for our afternoon lunch.
We started with drinks; Barca Pier offers a lengthy selection of cocktails, draft and canned beers, and wines. We decided to try both sangria flavors on the menu, opting for the traditional Spanish refresher to pair with our tapas. The first option is the stone fruit sangria, which has a base of rosé and is blended with cherry, peach, and orange blossom. The result is a delightfully light pink drink topped with mint that has a flavor reminiscent of a sweet-tart candy. The second option, the pomelo sangria, is their red wine version. The wine represented in this drink is a cabernet sauvignon, which is punched up by a hit of brandy and a mixture of pineapple and grapefruit juices. Despite the cabernet sauvignon base, this sangria was syrupy sweet and tasted more like fruit juice than wine. If you're seeking a traditional sangria with bits of fruit and a wine-forward flavor, then these are probably safe to skip; they're more of a wine cocktail and definitely for those who favor a sweet beverage.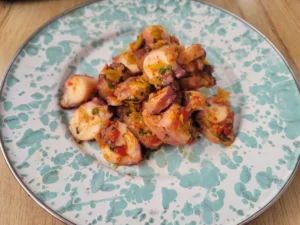 The first plate we ordered was the Spanish octopus salad. Octopus is a favorite of mine, but it can be tricky to get right since overcooking it just a little turn the delicate tentacles into rubbery masses. But rest assured, there is no need to worry about this at Barca. Chopped pieces of perfectly tender octopus are marinated in olive oil and chopped Guindilla peppers, a native Spanish pepper that provides a mild kick to the dish. Served cold, this dish is a must-try for any seafood lover.
In addition to the small plates, there are three platter options on the menu: a cheese plate, a meat plate, and a combination of the two. We decided to follow the octopus up with the quesos y embutidos platter — the combination meat and cheese platter — to try a little of everything. This platter included two kinds of cheese and two types of meat, plus a variety of other accompaniments. I had to try the warm grilled ciabatta bread as soon as the plate was put on our table. Toasted on the outside with perfect grill marks, the soft center was light and buttery, with small pools of hot, melted butter collecting in all the nooks and crannies. It was ideal for eating on its own or pairing with cheese.
The first cheese sample was whipped goat cheese, which was creamy and fresh and served drizzled with honey for a delicious sweet and tangy flavor. The second is a Spanish favorite, Manchego, served as a small wedge that was firm but cut easily and had the typical sweetness you expect with just the right amount of bite at the end to stand up to the other flavors on the dish.
The two types of meat included on this platter were a delicate prosciutto and a flavorful jamón serrano. The jamón serrano is sliced thin, with a sharp taste and peppery coating that held its own well against the cheeses. Plump and fresh grapes, traditional Marcona almonds, tangy pickled fennel, and a sprinkling of fresh herbs completed this platter. This is best for two to split.
Barca Pier is an excellent warm-weather spot to enjoy a drink, a light meal, and to take in the scenery of the Potomac River (perhaps while pretending you are someplace more exotic, which is easy to do with the traditional Mediterranean foods they are serving up)! Prepare for the wind because you'll be seated right over the water, and the limited size could lead to crowding or long waits for a table, especially during the warmer months. Those arriving by boat can dock right up to the restaurant for an hourly fee, and it is easy to access on foot from downtown Old Town – just follow the river!