The quintessential D.C. taco Tuesday at El Centro in Georgetown.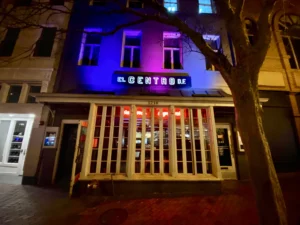 I crave tacos all the time, but especially on Taco Tuesdays! One of the best places in Washington D.C. to grab a margarita and Mexican food is El Centro. They offer lunch, dinner, happy hour, Taco Tuesday, and even brunch on the weekend. With something for everyone, you should stop by next time you are looking for that taco fix.
I visited El Centro for a Taco Tuesday happy hour after some shopping in Georgetown. I was able to get in without a reservation for a table for two, but I'd recommend making one in advance if you plan on dining in because they were busy. The hosts were excellent and sat us quickly despite us not having a reservation. The restaurant's top floor was packed with Georgetown students and working professionals looking to get an awesome deal on classic Mexican cuisine. We were not disappointed with the price point or the portion sizes!
I caught the tail end of happy hour, which runs from 4-7 p.m. on Monday through Friday, so I ordered the El Centro margarita on the rocks for just $6. My favorite cocktail is a good margarita with salt on the rim, and they nailed it. They also offer deals on sangria, wine, and beer during happy hour. If these options aren't your thing, don't worry; they have a full bar where you can enjoy whatever beverage you please with your meal. The restaurant also serves tortilla chips and salsa for the table to start. Their house salsa was amazing! I could not stop eating the chips and salsa before my meal, and we even got a second basket to enjoy with a second round of drinks.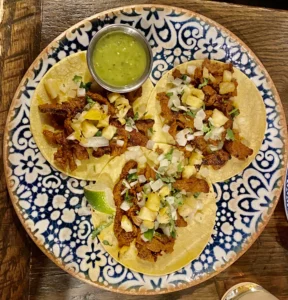 Since it was Taco Tuesday, they were running their $3 special on signature tacos for the occasion. We opted not to pick from the night's featured tacos, and I instead ordered the tacos al pastor as my entrée. This is my favorite type of taco, so it is difficult for me to skip them when they are on the menu, even where there's a deal going on. The tacos arrived on corn tortillas and included tender adobo pork shoulder, grilled pineapple, onion, cilantro, and salsa verde. They were so delicious; I absolutely would order them again! The meal came served with three tacos and a side of Mexican rice and refried beans.
My friend ordered chicken enchiladas as their entrée, and they were equally as pleased with their meal. The enchiladas were served with tomatillo sauce, Oaxaca cheese, lettuce, crema, red pickled onion, Mexican rice, and refried beans. Both of our meal portions were very large, and we were so full by the end of our meal. Even though the restaurant was busy, everything was especially flavorful and didn't take too long to come out.
El Centro is an easy and fun place to stop in for an impressive Mexican meal. I recommend their happy hour or Taco Tuesday so that you can take advantage of their fantastic food and drinks deals. This is a phenomenal place to meet with friends or coworkers for a short or extended meal. It is a superb pick for any Taco Tuesday and beyond.