Clean, coastal, Mexican cuisine at Blue Plate Taco.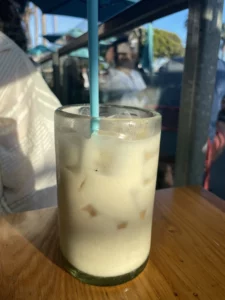 After researching where to go for taco Tuesday with the girls, we all agreed that Blue Plate Taco was the perfect place! The restaurant is located on Ocean Avenue, which you can always count on being busy any night of the week. We made a reservation because we were unsure what the walk-in wait time would be, and we were seated right away. From tourists that stopped by the restaurant for a quick bite to families out for their weekly dinner to groups like my friends and me, Blue Plate Taco fits any occasion: casual or celebratory. There actually was a huge celebratory dinner happening at the table behind us, and it was fun to see all that they had ordered because they practically got one of everything off the menu to feed their large group. 
The twinkle lights make Blue Plate Taco appealing from the street, so I am sure much of their business is walk-in. It is hard to find a place in L.A. these days in which you do not need a reservation, but I think this attribute can be accredited to the restaurant having a large space for both indoor and outdoor seating. We obviously chose outdoor seating to enjoy the ocean breeze and soak up the summer nightlife energy on the beautiful, warm-weather night. 
When deciding what to order, we asked the waiter for his personal favorites as well as some popular dishes ordered by their customers. I ordered a horchata, which consists of brown rice, oat milk, cinnamon, and nutmeg. It was probably one of the best horchatas I have ever had. It was the perfect level of sweet and spicy, which made it taste a bit more authentic than previous horchata drinks I have tried.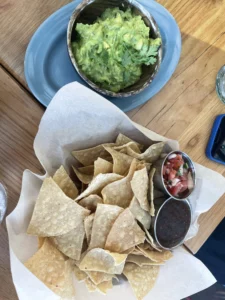 We then ordered guacamole and chips as a starter for the table, and we finished the dish in just a few minutes. The quality of the house-made chips was unbeatable as they were perfectly crunchy, and the salt seasoning on them made them flavorful on their own (even pre-guac). In addition to the guacamole, the chips were served with pico de gallo and house ranchero. Both sauces were tasty, but the house ranchero certainly had a spice kick that I was not ready for. The freshness of the tomatoes in the pico de gallo made the flavor really pop as well.  
I ordered the fish tacos for my main course, and they came with three corn tortillas, crispy red snapper prepared Baja-style, cabbage, chipotle aioli, and Mexican radish. The tacos were served with rice and beans, which were flavorful sides. The fish was extremely fresh, and the fried aspect made a perfect texture contrast with the corn tortilla and other ingredients. My friends all got various bowls, which consisted of brown rice (which can be substituted with cauliflower rice or a "flaco" bed of lettuce), black beans, market veggies, avocado, and a choice of protein (barbacoa, chicken, salmon, Baja fish, grilled fish, shrimp, carnitas, steak, or lobster). They looked quite yummy, but something about having fish tacos by the beach makes them taste even better.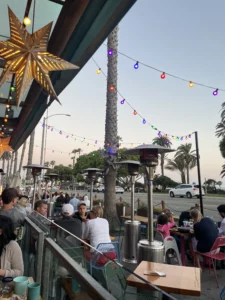 Not only is the menu deliciously diverse but the dishes are reasonably priced for the quality of the food. Their portions are rather generous as well! I think this spot is ideal for going with a group of friends to share dishes. However, I would not recommend this spot to someone looking for a quiet dining experience because the restaurant is open-air, and much of the noise happening on the street and sidewalk can be heard, especially as it is a pretty busy street already. Blue Plate Taco is definitely for a younger crowd looking for a fun outdoor dining experience. 
The staff at Blue Plate Taco was very friendly, particularly our waiter, who was so excited to give us his personal recommendations and even altered some suggestions based on our flavor preferences. The service was quick, especially considering the large number of customers dining in. I am not sure if they have a large delivery service program, but if they do, even more kudos for the fast service. As mentioned previously, the ambiance of being on Ocean Avenue across from the Santa Monica Beach and Pier makes any night under the twinkle lights enjoyable. I am definitely returning to Blue Plate Taco before the summer season is officially over to enjoy the outdoor seating and entertaining Santa Monica vibes.