Carson's serves up award-winning steak and barbecue to the people of Chicago.
The award-winning Carson's has long been a staple of Chicago restaurants since 1977. The reason is simple. They serve great food with top-notch service. You'll sense the warmth and ambiance that feels like a "welcome home" as you walk into the restaurant, which was completely remodeled last summer.  
Owned by Dean Carson, a third-generation Chicagoan, his family has been in the food and beverage business since the 1930s. Over 40 years ago, Carson's was created with this simple goal: serve large portions of delicious food at an honest price. 
"The high expectations of several generations of Carson's customers drive me to keep the great things great," said Dean Carson. He continues, "Time-honored recipes are rightfully expected to taste the same, all the time. Often, I notice families or a group of friends talking, laughing, and enjoying the timeless tradition of a meal at Carson's."  
We started out with their famous homemade cornbread, and it came right out of the oven, rich, and warm. We also ordered their delectable, chopped liver and know why their famous secret recipe would make any Jewish grandmother proud.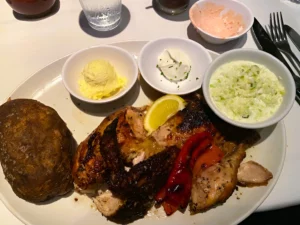 As far as entrées, I always enjoy the Greek chicken, broiled to perfection with just the right blend of spices that comes with award-winning coleslaw. For my side dishes, I couldn't miss the salt and pepper-crusted baked potato or the famous au gratin potato, loaded down with plenty of savory cheese. Best yet, these potatoes are so large that I usually have enough to bring home for leftovers.  
Their signature barbecue baby back ribs are authentic, slow-cooked barbecue. Smoked for hours in a genuine hickory wood-burning pit, they come out succulent and juicy every time. Can't decide? Carson's offers several combinations like the half slab of ribs, half chicken, or half slab of baby backs with slow-roasted barbeque brisket.  
If you have an appetite for steaks, Carson's has the best. They start with only the finest USDA Prime and Certified Angus beef, and then further age this beef for at least five weeks in-house. You'll taste the difference. Choose from a prime rib sandwich, NY strip steak, or filet mignon. The pièce de résistance is their center cut bone-in ribeye Delmonico steak.  
For smaller appetites, their menu also includes a selection of sandwiches like barbeque beef, salmon sandwich, and a good old American hamburger.  
Still hungry for dessert? Go with their authentic Key lime pie, which is sweet and tangy and has a coconut crust. The triple chocolate walnut brownie is another exceptional option, which is made with semi-sweet, bittersweet, and milk chocolate and served with a scoop of vanilla ice cream and warm sauce.  
When I go to Carson's for lunch, I usually have the Garbage Salad, which includes everything but the kitchen sink, such as cucumber, tomato, scallions, artichoke, egg, hearts of palm, and bacon, all tossed in an 80-year-old family recipe for creamy garlic dressing. 
Whether you go for a family celebration or just carry out to enjoy at home, Carson's is the place for a fabulous lunch or dinner.