Go deep with Chicago Finger Licking Chicago Deep-Dish Pizza Tours!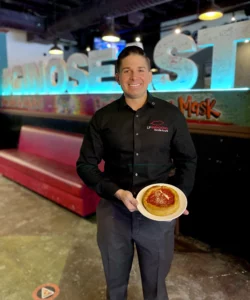 Do you love the famous Chicago-style deep-dish pizza? How about the chance to try three iconic brands while taking a stroll around this glorious city? Each of these restaurants has their own unique recipe, crust, and taste that put deep-dish on the map. I promise you won't go hungry. 
Take a walk through Chicago's iconic neighborhoods with stops at three of the Windy City's most popular deep-dish pizzerias. That's the concept behind former Chicagoan Don Contursi's self-guided Finger Licking Chicago Deep-Dish Pizza Tours. It's ideal for both locals and visitors alike.  
"So much pizza to try, so little time," says Donald Contursi, President and Founder of Finger Licking Foodie Tours of Las Vegas, which has now expanded to Chicago.  "We've done the near-impossible, giving guests the chance to enjoy three landmark deep-dish pizzerias, all in one easy outing with VIP service. We really think it's the ultimate pizza experience."  
This self-guided tour means no waiting for a table at these popular restaurants and a reduced wait for the pizza. Guests are seated immediately and get a freshly baked pizza delivered to their table in no-time flat. Best yet, you get to take the leftovers with you. We sure did.  
Here's how it works: go to the Finger Licking Foodie Tours website and schedule your pizza tour between 11 a.m. and 6 p.m. any day for your two-hour stairway to pizza heaven.  
Then head to your first stop, where you'll get seated quickly and be able to dig into fresh hot pizza in just 10 minutes. Each stop includes a signature deep-dish pizza with half sausage and half cheese. A virtual guide with insightful commentary about each stop is provided, as well as a map to help you get there. Tours cost $65 per person, including gratuities. Choose the optional "Beverage Package," which allows you to pair your pizza with a local Chicago beer at each stop for $35 per person. Vegetarian pizza options are also available.  
First Stop: Gino's East, 162 E. Superior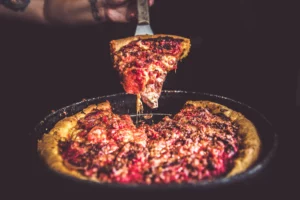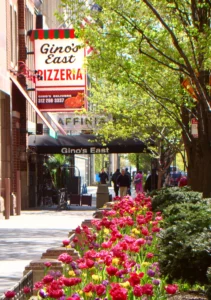 This three-story building is just steps away from the bustling Magnificent Mile. The walls are filled with graffiti, and you're invited to add your own. Check out the Comedy Bar with weekly shows and an open-air terrace upstairs because you'll want to come back for lots of laughs.  
The restaurant's history dates back to 1966 when two Chicago taxicab company owners opened the restaurant. Gino's East's Chicago-style deep-dish pizza is made the same way it was 50 years ago. They start with their signature, secret-recipe dough and top it with gooey Wisconsin mozzarella cheese, tangy tomato sauce made with tomatoes from a family farm in California, and sausage made right here in Chicago. Then, the
pies are slowly baked in seasoned cast-iron pans until the crust turns golden and flaky. The result is a delicious pizza, which is where the name "Legendary Cheese Pulls" comes from.  
For another visit, the Gino's East menu also includes appetizers like homemade spinach sticks and charred Brussels sprouts, soups, and sub sandwiches. Thin crust pizza is also on the menu with their specialty, Chicago Fire, topped with hot and spicy patty-style sausage as well as fire-roasted red peppers and red onions. This is one hot pizza! Cool it off with a sweet deep-dish brownie and vanilla ice cream.  
Second Stop: Pizzeria Uno, 29 East Ohio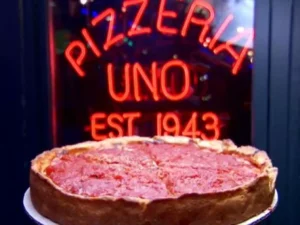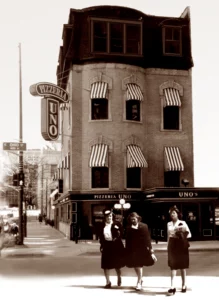 The history of Uno's goes back to 1943 when Ike Sewell developed a recipe for deep-dish pizza that had a buttery crust with a tall edge like a luscious pie. As it has in the past, their signature dough continues to be made fresh every day. Combining authentic Italian spices, quality tomatoes, superior meats and cheeses, the pizza is baked for almost an hour.  
Uno also features a full menu of appetizers, burgers, sandwiches, soups, salads, and desserts. Come back again and start with their spinach and artichoke dip, giant fried ravioli, broccoli and cheddar soup, or berry and goat cheese salad. Of course, I also suggest trying a deep-dish or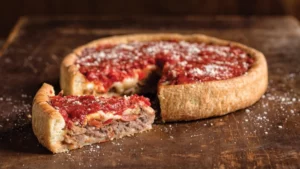 thin crust pizza, such as the Windy City Works with bacon, hamburger, and Uno's special three-cheese blend. End your culinary adventure with a deep-dish cookie sundae for dessert.  
You may wonder about the pizzeria across the street, Pizzeria Due. Yes, they are owned by the same company. When Pizzeria Uno opened its doors in a tiny space, they couldn't handle the customer demand. So, they opened Pizzeria Due across the street —problem solved! However, without a reservation on the Pizza Tour, you will have to wait.  
Third Stop: Lou Malnati's, 439 N Wells St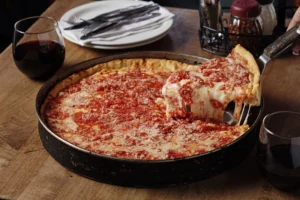 Considered the oldest family name in Chicago pizza, Lou Malnati's has a rich and delicious history. Lou Malnati started working at Chicago's first deep-dish pizza place in the 1940s and opened his own joint in 1971. Lou's version can best be described as a flaky, buttery pizza crust, an exclusive sausage blend, vine ripened plum tomatoes from California, and savory Wisconsin cheese. What sets Malnati's apart is the flavorful sausage patty that covers the entire circumference of the pie.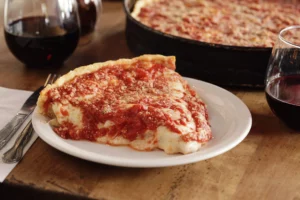 On another visit, try "The Lou" pizza with a spinach mix, mushrooms, and sliced Roma tomatoes. Their full menu includes appetizers like Lou's Bruschetta and Three-Cheese Bread, as well as chicken BBQ club salad. Chicken Louie and other pastas fit the bill for something warm and savory. For those gluten-free, they even offer a "crustless" pizza. Dig into the chocolate chip pizza for dessert. They even have a kid's menu. 
Interestingly, the order in which the ingredients get put on the pizza goes the opposite from a thin crust pizza. The mozzarella cheese is placed directly on the dough while additional ingredients like veggies and meat go on top of the cheese. Lastly, the pizza is topped off with a fresh tomato sauce. Extra cheese is added on top. Voilà!  
_
As you can imagine, there's really a lot of competition to see who has the best deep-dish pizza in Chicago. The truth be told, it's all in the tastebuds of the beholder. The Finger Licking Deep-Dish Tour gives you a chance to try all three. Then, you decide!