When you go to Masada, you are habibi.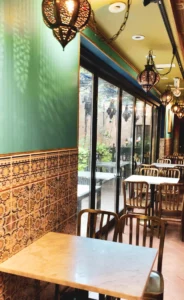 Habibi translates to "my love," but it also can refer to a friend or family when translated from Arabic. Masada is named after the owner Shadi's mother, which makes sense since this establishment is extremely welcoming. Masada was a restaurant that took 10 years to visualize. Shadi wanted to recreate the atmosphere he experienced in Lebanon and Jordan during his visits.
When you walk into Masada, you can see how much thought went into the interior design. From every tile to every light fixture, each detail completes the aesthetic of the restaurant. As you keep walking and go to the second level, you will be greeted with the most beautiful rooftop. You almost feel like you are in another country due to the decoration and number of plants that surround each square inch. It is a beautiful place to have any kind of event; in fact, I had my wedding rehearsal dinner there!
Before the pandemic, Masada was the place to be at night. Depending on the theme of the night, they would host a live DJ and/or belly dancers. The dancing was nonstop, and they would often pass out hats with the word "HABIBI" in bold. The joyous festivities always lasted until closing time.
Masada just recently built another addition to their space: Sultan's Market. This is the third location built and owned by Shadi. Since Masada had a nightclub vibe after dark, they closed it during the pandemic. However, they wanted their customers to still have access to the food, which is why they opened Sultan's.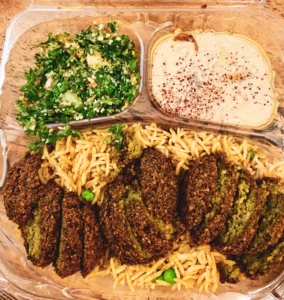 Now let's discuss the delicious part, the food!
I feel like quality falafel with perfect seasoning, crunch, and consistency is hard to find in the city. Masada and Sultan's Market hit all these marks for me! I can only speak to a few places that I will absolutely order falafel from each time, and this restaurant is one of them. Another fantastic menu item is the chicken shawarma dinner. It comes with a choice of rice, Jerusalem salad, or hummus. The hummus is something I can eat a ton of. Once again, it hits every one of my requirements, such as being creamy, perfectly seasoned, and having a good consistency. The portion sizes are ideal for leftovers for the next day or to share with someone to try a little of everything. My favorite thing to do is get about three dishes and make a family spread out of it.
Make sure that when you go to this establishment, you go with an appetite. You will walk away knowing that you just had food from a family that cooks from the heart. Shadi's mother frequented the restaurant prior to the pandemic, and it is really great to see that authenticity thrive in every sense of the word.