Christopher's World Grille – World-
c
lass
d
ining in a
h
istoric Texas
r
anch
h
ouse.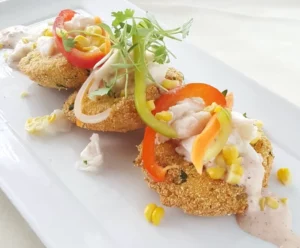 Many people who visit Texas think the restaurants only serve barbeque, steaks, and Mexican food. However, that'll change once they eat at Christopher's World Grille in Bryan, Texas. 
When you arrive, it's easy to see why Christopher's World Grille has become a favorite choice for special occasions, events, and entertaining out-of-town guests. It's in an elegant 1913 former ranch house with gorgeous oak floors, antique furnishings, original fireplaces, a leaded-glass china cabinet, and stained-glass windows. 
The menu and premier wine list reflect Chef Christopher Lampo's worldwide experience and Texas roots. Choices might include anything from egg rolls, Italian Beef Carpaccio, and South American Marinated Beef to Texas Spoon Drop Crab Cakes and Gulf Shrimp & Lobster Pasta flambéed with Tito's Texas vodka and served on a bed of linguini. 
My friends and I started with the featured appetizer our server recommended– Fried Green Tomatoes coated with cornmeal, with jumbo lump crabmeat, pickled vegetables, and roasted corn topped with a creole remoulade.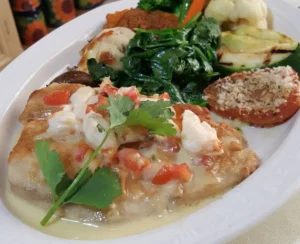 For our main course, my dining companions enjoyed Zihuatanejo Redfish, flash marinated and sautéed with lump crab, topped with Pico de Gallo and chardonnay butter sauce, and served with assorted grilled vegetables. I had the Bleu Filet, a pepper-crusted beef tenderloin wrapped in bacon, topped with blue cheese, and a demi-glace and served with sage scalloped potatoes and grilled asparagus.  
We considered skipping dessert but succumbed when our server arrived with a large tray of mouthwatering homemade desserts. My friends decided on the Molten Chocolate Gâteau, a flourless chocolate cake warmed with a chocolate ganache truffle and served with fresh raspberries and raspberry sauce. I had the Berries Napoleon, which consisted of white chocolate pastry cream with fresh berries tossed in orange liqueur layered with almond lace cookies served on a bed of raspberry sauce.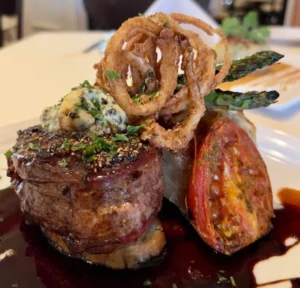 Chef Christopher is a Bryan native and a proud Aggie supporter. He attended Texas A&M University for a year but transferred to the Culinary Institute of America in Hyde Park, New York, where he graduated with honors. He holds a Bachelor of Science degree in Hospitality Management, with Honors, from Florida International University and is a Certified Executive Chef through The American Culinary Federation as well as being a founding member of the Culinary Institute of America's Alumni Council Board of Trustees. 
Before opening Christopher's World Grille in 1999, he worked at world-class restaurants and resorts. He managed several restaurants at the Houstonian Hotel and Spa and prepared to be a chef on private luxury yachts in Europe, North America, and The South Pacific at the River Café in London.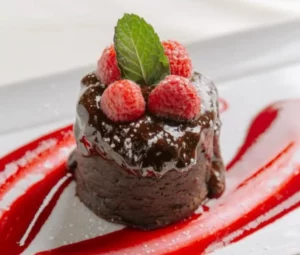 While working as a private chef, he cooked for celebrities like Naomi Campbell, Robert De Niro, Michael Douglas, Mick Jagger, Elle Macpherson, Yoko Ono, Randy Quaid, Ivana Trump, and Denzel Washington.  
Chef Christopher and his team at Christopher's World Grille have hosted five presidents—George H.W. and George W. Bush, Carter, Obama, and Clinton, and various celebrities, including Governor Rick Perry, George Strait, Garth Brooks, James Baker, Tom Selleck, Brian Mulroney, Clarence Thomas and the cast of Extreme Makeover-Home Edition. 
If you're in Bryan or College Station, Texas, and are looking for a special place for a nice dinner with family or friends, visit the Christopher's World Grille website to make a reservation. You won't be disappointed!