The Colada Shop – a Cuban café, coffee shop, and bar combined to spread #coladalove.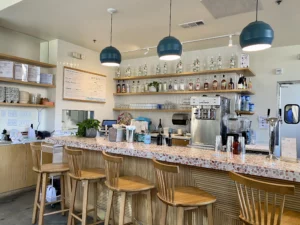 The Colada Shop is a delightful Cuban café, coffee shop, and bar, with vibrant colors and a light airy atmosphere that transports you to the warmth and sun of Cuba. Although I visited on a chilly winter day, I immediately felt warm and cozy. This café is an opportune spot for working or studying, visiting with friends, or a quick coffee run. The Colada Shop opens early to serve up coffee and breakfast favorites, but it is open all day for drinks and other fares. I visited for a late lunch and was extremely happy that I stopped by this bright spot at The Wharf.
Founded and led by Daniella Senior, who was born and raised in the Dominican Republic, she is bringing her love of Cuban food to the people of Washington DC. Why? Because she, "couldn't find a place that combined my love of good food, coffee, cocktails and social interactions – and so I created Colada Shop."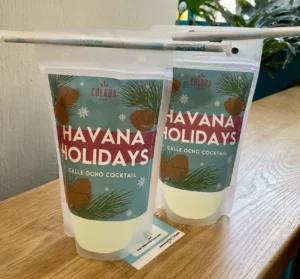 When you enter, you place your order with the very friendly staff at the counter, receive a number, and seat yourself. The menu has quite a large variety for a seemingly small café. The coffee bar offers many espresso and coffee drinks, there is a full bar, and the food menu varies from small shareable options, like croquetas and empanadas, to filling entrées, like sandwiches and bowls.
To start, we ordered two mojitos that came in Instagrammable pouches. These adult juice bags would be perfect to be enjoyed during the summertime on their patio. They also offer these cocktails in normal glasses if you prefer.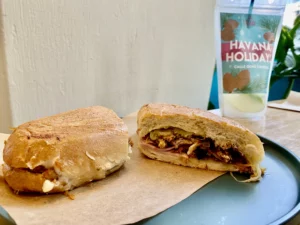 To eat, we got the Colada Shop Cuban sandwich and a chicken empanada. Both dishes were delicious! The sandwich arrived nicely warmed on Cuban bread and came with ham, slow-roasted pork, Swiss cheese, mustard, pickles, and cilantro aioli. The meat was succulent, and the bread was perfectly flaky, soft on the inside, and crunchy on the outside. I would highly recommend ordering the Colada Shop Cuban if you visit. The chicken empanada was also incredibly appetizing. It was on the small side, but it packed a big punch of flavor. It came with a side of savory dipping sauce that we couldn't get enough of. Next time, I'll order a whole empanada to myself rather than sharing it with another person.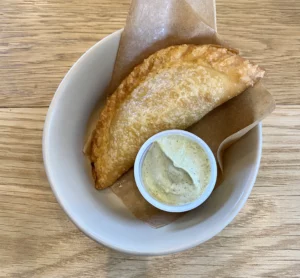 After our main meal, we decided that we had to try some Cuban coffee. We ordered a cortadito (espresso, steam evaporated milk, and sweet Cuban crema), which was an exceptional afternoon pick-me-up. I will absolutely be returning to the Colada Shop for more coffee! If you enjoy coffee, try out something from their coffee bar to complete your experience. Unfortunately, we were too full for dessert this time around; however, my mouth was watering just thinking about their pastelitos, churros, and dulce de leche brownie sundae.
Overall, we really enjoyed our first dining experience at The Colada Shop. Both my dining partner and I agreed that we cannot wait to come back to try even more things from their enticing menu. The Colada Shop is a fantastic addition to the Wharf and the Washington D.C. area in general. They have several locations, so I urge you to see if there's a Colada Shop in your neighborhood to try out for yourself!