Sample international street food at Compass Rose!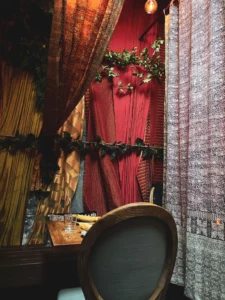 Do you dream of traveling the world and trying new foods everywhere you go? How about trying exotic foods from the comfort of your own city? For adventurous eaters and travel lovers alike, Compass Rose is the restaurant for you.
The bustling restaurant is located within a converted historic row house on Washington D.C.'s popular 14th Street NW. Serving up international street food, Compass Rose is bound to deliver an entire dining journey from start to finish.
This unique dining experience can be attributed to the mind of owner Rose Previte. Previte has garnered quite an impressive background, also owning Michelin-starred establishment Maydan.
Upon entering Compass Rose, the cozy atmosphere immediately drew me in. The decor is warm and reminds you of international travel that has been so hard to do during the past two years. You are transported into a new place right away.
The menu is quite extensive and offers food from around the world served tapas-style for you to try with your party. We opted for their signature tasting menu called "Tour of the World," which
also comes in a vegetarian version. The Tour of the World is $45 per person and is served with a cocktail shot to start, five savory dishes, and one dessert.
Before our first dish arrived, we ordered cocktails to drink with our meal. I ordered the Compass Rose, a restaurant classic boasting the restaurant's name, which has pomegranate, sparkling wine, mint, and rose water. My dining partner ordered Nana's Old Fashioned, which consists of scotch, rye whiskey, Frangelico, amaro nocino, and crème de banana. Both cocktails were really light and delicious, and they were the perfect start to our dining experience.
The Tour of the World came with the following dishes, served in this order:
1. Acorn Squash and Labneh from Lebanon
2. Spice Bag from Ireland
3. Kebab Platter from Tunisia
4. Sambal Shrimp from Malaysia
5. Khachapuri from Georgia
6. Chocolate Tres Leches Cake from Nicaragua
Every single dish was amazing, and I would order them all again if I returned and ordered à la carte. However, our favorites were acorn squash, kebab platter, and khachapuri. The servings of each dish were large enough for two guests, and we left fully satisfied from eating the Tour of the World tasting menu.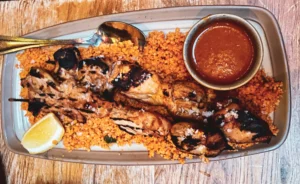 The acorn squash was the perfect pairing of sweet and savory featuring za'atar seasoning, brown butter, toasted pumpkin seeds, and fried rosemary. This was the one on the list that enticed me the least at first glance, but turned into one of our favorites quickly after trying it.
The kebab platter consisted of chicken skewers served over harissa couscous and flavored with pomegranate, peppadew, and peanut sauce. The kebabs were grilled and juicy, and they paired very well with the couscous.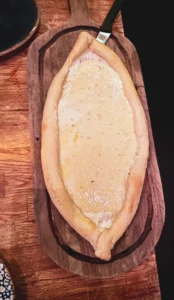 The star of the show was definitely the khachapuri from Georgia. Khachapuri is a cheese-filled bread boat with egg, butter, and za'atar seasoning. This was served with the filling being mixed tableside by our waitress so that we could see the egg cook into the cheese and other fillings — so delicious and impressive to watch!
Overall, Compass Rose was an absolute delight to dine at. We tried many new foods and drinks without traveling outside of our city. I would recommend Compass Rose for dinner with friends or family. This would also be a wonderful place to go for a special occasion or date night. The location of the restaurant is fantastic for doing something before or after your mealtime too. With excellent service, creative food, and a unique atmosphere, I will be dining at Compass Rose again soon!