High-end Spanish seafood from the comfort of Washington D.C. only at Del Mar.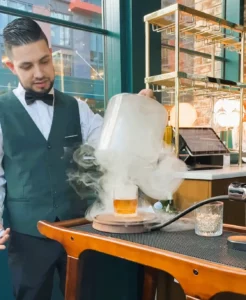 If you're looking for a restaurant for a special occasion in Washington D.C., then Del Mar should be on your list. This exceptional restaurant from Michelin star chef Fabio Trabocchi is such a treat. Located at the District Wharf, the atmosphere transports you on a journey through Spanish seafood and cuisine. The decor of the restaurant blew us away, and the large windows facing the waterfront are stunning for a date night.
Upon entry, we were greeted by the friendly staff. They are extremely knowledgeable about the food and ingredients served at the restaurant. Del Mar also has a sommelier on staff to assist in selecting the perfect Spanish wine to accompany your dinner. I opted to begin with a glass of the Tempranillo and my dining partner selected the Sabor Ibérico, or Iberian flavor, as his cocktail. This was suggested to us and was made with Cinco Jotas Jamón Ibérico-Washed Maker's Mark Bourbon and saffron angostura bitters, and it was served in a smoked glass case. It truly was a cocktail with a show! It was probably the best take on an old-fashioned that I've ever tasted.
Our waitress brought around a display cart of the fresh seafood featured on the menu. It was wonderful to get explanations about the fish and shellfish that we were about to enjoy. The service reflects how Del Mar really prides itself on serving the best and freshest seafood possible.
We decided to order a few tapas to begin and finish with a traditional paella. We got the patatas bravas, crispy Kennebec potatoes with aioli and brava sauce, and the sobrasada, a Mallorcan Island fine cured charcuterie experience. I highly recommend ordering the patatas bravas if you order tapas here. These there perfectly made and amazing in every way. The sobrasada was such a cool experience served tableside. I'd recommend this if you're interested in trying something unique! The sausage was delicious and so flavorful.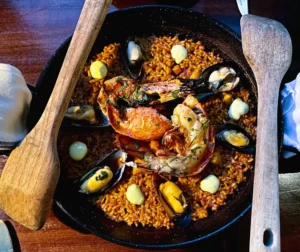 Our main dish was the paella de pescado y mariscos. This is a traditional seafood paella, and it was served with Maine lobster, tiger prawn, PEI mussels, monkfish over bomba rice with garlic aioli. Paella is a Valencian dish dating back to the 1800s and a staple of Spanish cuisine. The paella was absolutely the highlight of our meal. We also ordered two red sangrias to enjoy with our main course. Their sangria is a must order if you enjoy this type of cocktail.
We were visiting for a birthday dinner and were treated to a special birthday dessert: a delicious cake. The other dessert options also looked amazing, but we were too full to order anything else.
Del Mar was an exquisite dining experience. If you like Spanish food and are in D.C., you must give this restaurant a try. It is ideal for a special occasion or getting a little more dressed up to dine out. It is a pricy place to eat, but it is worth it if you enjoy Spanish cuisine! I highly recommend a visit to Del Mar at the Wharf.