Mai Thai is serving up delicious Thai cuisine with beautiful views.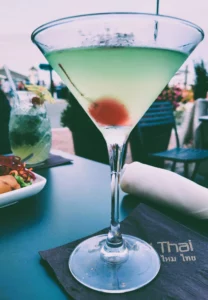 The Old Town, Alexandria waterfront is one of the most popular places to dine in the D.C. area. Striking views of the Potomac and the D.C. skyline along with the quaint, cobbled streets of the historic district draw locals and tourists alike. But to get a seat right on the water can be difficult; there are only so many restaurants that actually offer a view over the river's edge. Mai Thai is one of them, and it's located at an enviable address at the base of King Street, with only a park between their patio and the river's edge. This traditional Thai restaurant serves up casual elegance, beautiful views, and of course, delicious food.
On an unseasonably warm weekday evening, we were lucky to grab one of the last tables available on the patio with some friends. There's nothing like sudden warm weather to make you want to sit outside with a cocktail, and Mai Thai's menu did not disappoint with options. Our table ordered a mojito, a piña colada, and an apple martini, which all arrived looking perfectly tropical with bright cherries and fresh mint as contrasting garnishes. Each cocktail was delicious — nothing overly sweet or watered down — and we enjoyed them for a while before ordering our meals.
We chose to begin with an order of crab-shrimp spring rolls and tom-yum mushroom soup for one member of our party. The soup was a healthy portion, much larger than your traditional starter cup. True to the menu's warning, it was spicy, and the broth was well seasoned with flavor to offset the mushrooms. But, beware: this is a cilantro-heavy dish!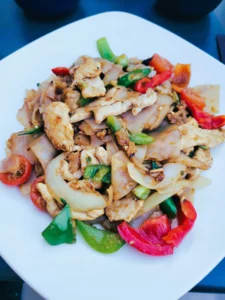 The crab-shrimp rolls were long, thin, tightly wrapped rolls filled with glass noodles, crabmeat, shrimp, and vegetables. They arrived alongside a sweet chili sauce. These rolls had a very delicate flavor. The shellfish and vegetables were chopped quite small, and a lot of the filling was taken up by the noodles, but they were not oily or overly fried and made for a light, easily shared appetizer.
At Thai restaurants, I have a habit of reading the whole menu several times over and then routinely ordering the same dish, and I did not break this habit at Mai Thai. My favorite dish, drunken noodles, was available with chicken, beef, pork, seafood, or tofu. I ordered it with chicken, and one of our friends opted for the same dish with tofu. My favorite thing about drunken noodles is the sweet sauce that hits with spice at the end, and these were done very well. The wide noodles were served with a generous helping of chicken and bright vegetables. All the Thai flavors came through with each bite, and the spice built up as you ate without ever becoming overwhelming. I would certainly return to Mai Thai for these noodles again and again.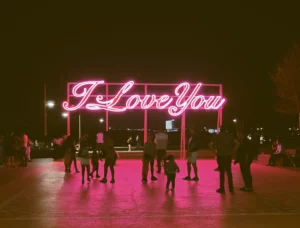 Another member of our party ordered the house special honey-ginger duck, which was served sliced among julienned vegetables. The sauce on the duck was a sweet and tangy combination. The duck was juicy and tender, which can be hard to attain with this particular poultry, which can all too often be tough and chewy.
As we concluded our meal, the sun was going down and the park across the street was filling with people. We watched as the current art installation, an enormous script sign which reads "I love you," went from bubblegum pink in the daylight to bright neon pink at night. A street performer hooked up an amplifier and sang love songs into a microphone while people enjoyed an evening stroll. We joined them after paying the bill to take some photos and enjoy the scenery, just steps away from where we had been sitting. An excellent location and great food, Mai Thai is definitely a "don't miss."