Is Eleven City Diner the BEST deli in Chicago?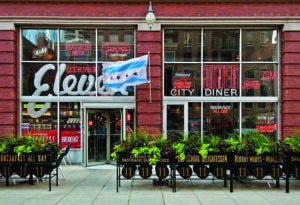 Eleven City Diner is like a classic old-fashioned delicatessen, filled with a whole lot of nostalgia and outstanding food served in huge portions.  
With a full bar, an antique soda fountain, and desserts to die for, this is a can't-miss dining experience. My best advice to you is to come hungry because Eleven City Diner takes deli dining to a whole new stratosphere.  
Founder Brad Rubin opened Eleven City Diner in the Printer's Row neighborhood about 15 years ago with a single mindset: to do it his way. The results are in — slam dunk, Eleven City Diner is the best deli in Chicago. Why Eleven? It's always been Rubin's lucky number!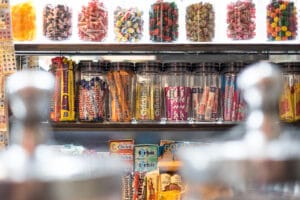 When you walk in, you are immediately greeted by a warm, friendly team member who will make you feel like you're a part of the family. Although you may have to wait for a table, it's well worth it.  
While you're waiting, you can busy yourself by admiring all the fun decor that lines the walls, such as family pictures, jazz album covers, and toys from a bygone era. Or check out all the candy jars brimming with sweet treats, including their most popular Swedish Fish, Goo Goo Clusters, and Necco Wafers.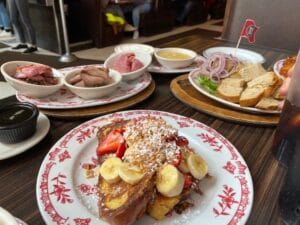 Let's start with breakfast. For you late risers, I've got good news: you can grab breakfast all day. Take your choice of eggs, omelets, Belgian waffles, and a delicious deli scramble. A big winner is challah French toast topped with fruit and toasted coconut and served with plenty of perfectly seasoned breakfast potatoes. My recommendation is the avocado bagel breakfast, which includes avocado, cherry tomato, feta cheese, microgreens, and a bagel. For those who want to hoard it all for themselves, their "Lox Box" brunch (takeout only) will make you think you've hit pay dirt with hand-sliced Nova lox, cream cheese, tomatoes, onions, capers, cucumber, olives, and bagels.  
When it comes to lunch, you can't go wrong with soup and a sandwich. Enjoy tender and flavorful smoked meats such as corn beef, turkey, pastrami, or smoked beef brisket in a sandwich stacked like the Willis Tower.  
You won't believe your eyes at the matza balls the size of baseballs and the ginormous potato pancakes. "Go big or go home!" encapsulates the menu at Eleven City Diner. 
Slurp their home brew root beer, which comes with free refills, or try their oversized, rich, and thick malts and shakes. Their "Brooklyn Egg Cream" is legendary.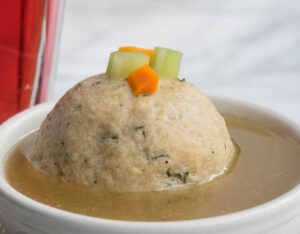 For those looking for a lighter fare, pick from a variety of garden-fresh salads. An extremely popular option is "Jeff
Garlin's Veggie Cobb" with mushrooms, carrots, tomatoes, broccoli, cauliflower, avocado, and sprouts.  
The rest of the menu features fabulous melts, hamburgers, a kids' menu, and Intelligentsia Coffee.  
Remember those desserts I mentioned? Finish off your meal with a slice of luscious carrot cake, chocolate cake, or cheesecake. They're massive, of course.  
I can think of one other word to describe this Chicago favorite…. HEAVEN City Diner! Open for dine-in, pick-up, or delivery.