With Storyville, taste traditional New Orleans cuisine without leaving Chicago.
After a long January day of bearing the winter elements and watching the Chicago Bulls play, my boyfriend and I decided to grab dinner at a local spot we'd been wanting to try. Given our affinity for Southern food, we knew we'd be in for a treat when we heard Storyville specialized in New Orleans-inspired Cajun cuisine. 
Located in the downtown neighborhood of River North, Storyville's location is blocks away from Michigan Avenue (or more aptly known as the "Mag Mile"), which makes it conveniently located for tourists and locals alike. Storyville offers indoor table and bar seating in a cozy dining room, complete with a piano in the back for live music. The restaurant kitchen is headed by Executive Chef Louie Yu who formerly worked at Sunda, another Chicago eatery, and boasts their ability to add an unexpected twist to Cajun cuisine.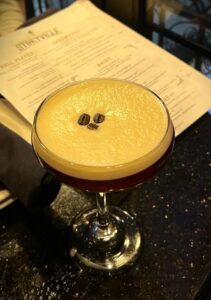 As we entered the restaurant, the hostess was quick to greet us and discuss our seating options. Eating out during the COVID-19 pandemic has presented some unique challenges for restaurants, from reservation-only seating to time limits for guests. Despite not having a reservation, the hostess told us that she would be happy to squeeze us in and seated us at a table near the window. Shortly after, our server introduced himself and asked if we had any initial questions about the drink menu. My boyfriend chose the "Va Va Vieux Carre" while I opted for an espresso martini. The Va Va Vieux Carre was a brandy-based drink, made with cognac, sweet vermouth, and yellow chartreuse. The espresso martini was made with vodka, espresso, Dolce Nero, and Licor 43. The balance of bitterness and sweetness can be tough to achieve in espresso martinis, but Storyville did an excellent job with theirs. Both drinks had a smooth and well-balanced flavor.  
To start our meal, we split an order of the boudin balls and the catfish nuggets. Described by some as the "ultimate comfort food," boudin balls are a staple food in southern cuisine and are typically made from sausage and rice. Storyville's version was made with roasted pork shoulder, rice, liver pateé, and their housemade ranch. The flavor of the food was outstanding. Despite the dish being fried, we were still able to differentiate the distinct flavors in each bite. The housemade ranch was also delectable; the creaminess of the sauce complimented the slightly spicy flavor of the dish. The catfish nuggets came fried in cornmeal breading and lemon pepper seasoning as well as with a side of spicy garlic aioli. My boyfriend and I are already die-hard catfish fans (yes, we exist) and these nuggets exceeded our expectations. The catfish was juicy and flaky, while the cornmeal breading and aioli added crunch and spice to each bite. Both of the appetizers were the perfect portion to split among a small group of two to three people.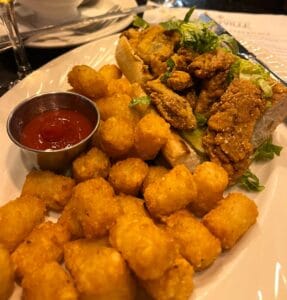 For our mains, my boyfriend chose to get the seafood gumbo and I ordered the oyster sandwich with a side of Cajun tater tots. The seafood gumbo contained shrimp, crawfish, andouille sausage, jasmine rice, and a dark roux. The meat and seafood flavors were prominent without overpowering the rest of the dish, while the dark roux added a complex, nutty flavor to the gumbo. The oysters in my sandwich were freshly shucked and lightly fried to preserve the seafood flavor. I found this especially impressive considering many fried seafood dishes tend to have a stronger "fried" flavor than seafood flavor. The sandwich was dressed with a simple aioli and shredded romaine lettuce for some added freshness. Both meals were the perfect portion for one person.  
Though we don't typically indulge in dessert, after browsing Storyville's dessert offerings, we knew we had to get the Bananas Foster. The dish was delivered in two parts: they brought the cake and ice cream to our table, and then our server brought in the flaming rum, banana, and brown sugar topping to pour over the dessert plate. Presentation aside, the dish itself was delicious. The cake was moist and delicate, and the topping had a caramelized flavor that complimented the cake well without being overbearing.  
If you find yourself in the River North area or just craving some soul food, I recommend checking out Storyville for your next night out. For those looking for a lighter meal, they offer a happy hour special on Wednesday to Friday from 4 p.m. to 6 p.m., where they serve $1 sweet or savory beignets and offer a selection of $7 cocktails. However, no matter how or when you decide to dine there, Storyville's intimate but relaxed environment and superb service will make it a memorable experience. This would be the perfect spot to take a date or close friend to immerse yourselves in a taste of the south without ever leaving Chicago.