Located in the heart of downtown Memphis, dine at Flight Restaurant for a uniquely elevated dining experience.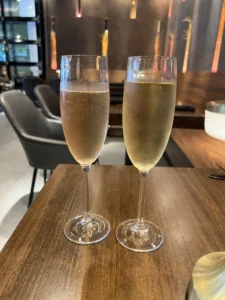 One of the best parts of a vacation is experiencing local fare, and I had high expectations after hearing about Flight Restaurant from our concierge.  In Miami we do tapas, but I think Flight Restaurant brings it to an even higher level. With tapas, you never really know how much to order. Flight Restaurant pretty much lays it right on the line for you, taking out any guesswork. The concept is simple. Order a flight of 3 sample dishes, from their well thought out suggested groupings—or you can mix and match a bit from off of the menu. Tip: you will save a bit if you stick with Flight Restaurant's suggested groupings.  
We were seated in the upstairs balcony, which I found to be quieter and more romantic than the main floor. White tablecloths, soft lighting, leather menus, all very elegant. However, the bar is located on the main floor, so some might prefer seating in the center of activity. I have another tip. If your reservations fall within the weekend, or at any busy time—ask to be seated in the wine cellar. How cool does that sound? I imagine its location is slightly inconvenient for staff, so it's only opened up when capacity warrants. I would have loved to check it out.  
We were warmly welcomed at the door, and seated right away. I've forgotten our server's name, although she really made our experience fun. She told us there are two other sister restaurants, located in different areas of Memphis, each with a totally different restaurant concept. I wish we were in town for a while longer. She really knew the menu offerings well, so helped us navigate the menu and gave us ideas and feedback. Overall, our service rated an A+.
I started off with a flight of Pinot noirs. I've always loved doing taste tests, so this was right up my alley. Each wine came with its own description card. The whole experience of having wine at dinner was instantly elevated (or taking flight—excuse the pun.) When the salad flight arrived, I was surprised by the portion size. And at how awesome each looked. On a hot summer day, the watermelon and feta was light and refreshing, included red onion and olive oil with hints of mint. My husband loves wedge salads, and he loved this one. I liked that it had Roquefort over regular Blue Cheese,  and it included red onion,  crispy bacon, and grape tomatoes. The harvest salad was my personal favorite, made with a mix of greens, dried cranberries, goat cheese, bacon spiced pecans, and was seasoned with a light-colored balsamic dressing.  
The main flights came promptly after we finished the salads. I chose the Chef's summer flight.  It had tuna tartare with mango and avocado relish and a Chile lime dressing. In the center was a crispy lightly fried golden lobster tail. And the 3rd tasting was a seafood ceviche with shrimp, crab, tomato, corn and lime. It was all as delicious as it was gorgeous.  
My husband had what I called the exotic meat flight. First up was a beef filet, drizzled with a wine sauce, and stuffed with soft Boursin cheese, all served over a potato purée. Next on his flight was a tender elk tenderloin with a Kailua glaze, served over white cheddar Mac and cheese with mushrooms, drizzled with truffle oil. The third entree was a bison ribeye steak, drizzled with a Cabernet sauce and served with potatoes au gratin. My husband and I do like to share tastes of our food, so after taste-testing, I can attest to his high ranking for his flight.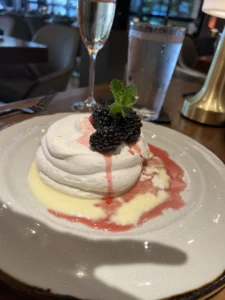 After all of these amazing and generous flights of great food, we were fairly satiated already. Yet when you are in the midst of sampling and indulging yourselves, it is awfully hard to just stop. So don't judge, but we went on to order the Chef's dessert flight. The flights arrived with portions even larger than expected. The coconut cream pie was tasty, although the crust was a tad hard. It was easy to move on to the next…chocolate peanut butter banana tart. It was to die for. Saving the best for last, we tackled the mud pie—a cookie crumb gelato pie dripping with an insanely delicious chocolate sauce.  
Flight Restaurant was easily worth the trip, and was a whole gourmet experience in and of itself—that won me over on any tapas experience any day.