Say "Oui" to Fresh Baguette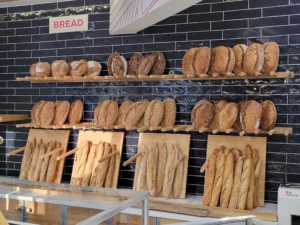 Since moving back to the U.S. from Europe, I have been on the hunt for the perfect French croissant in the D.C. area. When I heard that local bakery Fresh Baguette was opening their new location in Alexandria and that they were a French bakery, with their equipment and techniques imported from the motherland of croissants, I knew this one was a must-try. With a hopeful stomach, I found myself waiting in line in freezing weather outside Fresh Baguette on opening day at 6 a.m.
Just before opening day, they announced on Facebook that the first 20 customers would receive free croissants for a year. Thinking we'd arrive an hour early and easily be among the first 20, my husband and I bundled up in our winter coats, stopped for a couple of hot coffees, and rolled up casually, only to find that we were not even in the top 50. The first group in line had arrived at 4 a.m. People were sitting in camping chairs and sharing snacks. We weren't going to get the free croissants, but this definitely boded well for our quest. And so, we joined the queue and smelled the sweet scent of baked goods that can only be experienced wafting out of bakeries in the wee morning hours.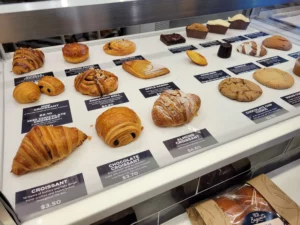 The first thing I noticed about Fresh Baguette is that it just looked like a French bakery. This spot exuded the aesthetic of the elegant boulangeries and pâtisseries in downtown Paris, complete with a modern, sleek design as well as minimalist colors and displays. Pastries and loaves of bread were laid out carefully beneath glass in the same manner you'd expect to find expensive jewelry. From their precise preparation to their intricate designs, each of these delicate sweets is made with the same care that goes into cutting and setting a stone.
As a consolation prize for those of us who did not arrive before the sun, each customer was provided a complimentary baguette as they entered the shop. When ours was handed over, it was still warm through the paper sleeve and had that inviting, yeasty fragrance that only fresh bread has, tempting you to rip off a piece then and there. A wall of the bakery showcases all their types of bread, including several varieties of baguettes, sourdoughs, and sandwich loaves. In the cases, you will find multiple flavors of croissants, such as almond, chocolate, and plain, and numerous other traditional French pastries. Tarts and eclairs entice you with their chocolate and fruit toppings while oversized cookies and sweet bread remind you of your favorite childhood treats. A few savory options are available as well, including a traditional French sandwich that I grew to love while overseas and was overjoyed to find here: a fresh baguette coated in butter and topped with ham and Swiss cheese.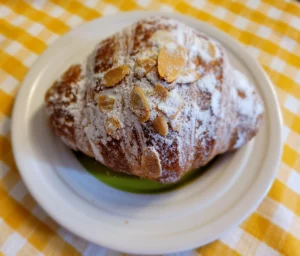 Despite the desire to try everything, we composed ourselves and ordered both the plain and almond croissants and a mini lemon meringue tart. It is clear that these croissants are truly made in French fashion. As opposed to many local croissants that feel heavy and taste overly sweet, these are light as air, with a flaky shell that pulls apart to reveal a soft and delicate interior. The almond croissant was precisely what I was searching for, filled with robust almond cream, topped with sliced almonds, and dusted with powdered sugar.
The crisp exterior paired with a pillowy soft interior baguette was equally as reminiscent of my time overseas. It is the bread that tastes good and does not make you feel weighed down. Easily pulled apart by hand, it is delicious whether dipped in leftover sauce or used as the base of a sandwich. Somehow, we managed to save the lemon meringue tart until dinner time. As a dessert treat, it was delightful. The lemon cream center is bright and zesty, while the outer shell retains its texture and does not become soggy under the weight of the cream. The well-balanced and irresistible treat will send you back for more.
In addition to the many freshly baked delicacies, Fresh Baguette also features a wall of imported French goods for sale, ranging from cookies to jams to candy, many of which I recognized from supermarket shelves in my previous home. This bakery is authentic, and they've gone out of their way to ensure that everyone coming through the door can see that at first glance. But looks aren't everything, and Fresh Baguette delivers on baked goods. They're a small taste of France right here in the D.C. area, and they're a welcome find for this croissant-lover. Bon appétit!