Mercy Me – A 'Sorta South American' lounge perfect for drinks and dinner.
If you're looking for a place to meet up with friends for a casual and comfortable yet unique meal, you need to head over to Mercy Me in the Dupont Circle neighborhood. Don't be fooled because it is located in the Yours Truly hotel because this isn't a normal hotel bar. You may miss this hidden gem at first due to its rather small signage, but to enter, you go through the hotel entrance and hang to the left; you'll be met by kind hosts for the restaurant and cocktail bar.
Mercy Me is inspired by South American cuisine and offers a wide variety of drinks to choose from. This spot is great for hanging out with a group because much of its seating is lounge style. The big couches and large armchairs make cozy nooks for you to catch up with your dining partners. I met up with my book club at Mercy Me and it was perfect for sharing tasty food, drinking wine, and enjoying a lovely atmosphere.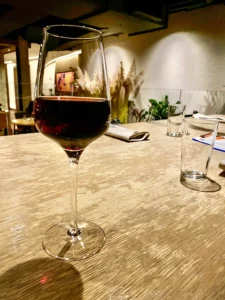 The space is quite large compared to many D.C. restaurants in this neighborhood. While the restaurant was busy when I was there, everyone was spaced out, so it wasn't loud, and we felt like we had our own space, really leaning into the lounge vibe.
To begin, they served our table a delicious savory-spicy popcorn to share. It had such a good flavor; unlike anything I've ever had before. To drink, I ordered a glass of Alta Vista Vive Malbec 2019 from Argentina. Both the flavored popcorn and wine were an excellent start to my
South American-inspired dining experience. Although I ordered wine, Mercy Me is known for its cocktails as well. Next time I go, I will absolutely try one of their fun cocktails. My friends really enjoyed all their beverages at Mercy Me.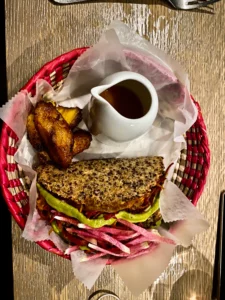 For my entrée, I got the quinoa tacos. They were exceptionally flavored with mushrooms, carrots, eggplant, and cilantro BBQ sauce served in a delightfully crunchy quinoa taco shell. It came with a side of sweet plantains and a spicy sauce. I love tacos and these were no exception. I loved how Mercy Me took traditional South American ingredients and gave them their own spin, allowing me to enjoy incredibly novel tacos. These tacos also felt light and fresh. Some tacos can be oily, but these weren't weighed down with grease and tasted wonderful.
Our service at Mercy Me was great. We were a larger party of nine people, but the waitstaff was so attentive and cordial. Some of my group's other favorites were the Mercy Mule and Spicy Marg cocktails as well as their mole chicken, tostadas, and pizza. We all had a pleasant time and will certainly return to try out more menu items at Mercy Me. I recommend this restaurant of interesting eats for meeting up with friends or for a casual happy hour spot. Be sure to check out Mercy Me next time you're in Dupont Circle.