Guajillo – a vibrant neighborhood Mexican restaurant outside of Washington, D.C.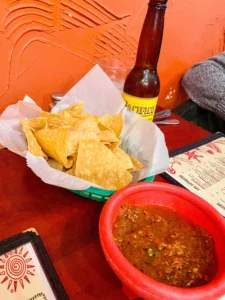 Guajillo Mexican Grill is a hidden gem of a restaurant in between the Rosslyn and Court House neighborhoods of Arlington, Virginia. Located just one metro stop from Washington DC, this is a popular area for tourists visiting the National Mall on their vacation to the nation's capital. If you find yourself in the Arlington area, perhaps after visiting Arlington National Cemetery or the Marine Corps Memorial, you should make your way to Guajillo for a flavorful lunch or dinner! 
When you walk into Guajillo you are immediately enveloped into a world of color. The vibrant warm orange walls and ceiling, painted to look like a blue sky, certainly transported me to sunny Mexico on the gloomy Washington DC day I visited. The atmosphere made me even more excited to try their food and drinks. We were greeted quickly by a friendly host and seated along the wall near the bar. The restaurant was busy, but the service was incredibly fast! 
One of my favorite parts about visiting a sit-down Mexican restaurant is starting the meal with chips and salsa. Guajillo did not disappoint me! They served us complimentary chips with a flavorful homemade salsa that had some heat but wasn't too spicy. They were very addictive, and before we knew it we had finished our whole basket of perfectly salted tortilla chips.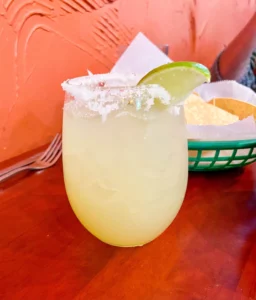 To wash down our delightful appetizer I ordered the house margarita on the rocks. It's called La Casa and is served with house blanco tequila with a salted rim and a lime wedge for garnish. This margarita hit the spot for me. It had just the right amount of sweetness paired with that classic citrus zing. Another plus was that you could order it frozen as well if that's how you prefer your margaritas. Guajillo has a large drink menu and a full bar, so you can order any traditional Mexican-inspired beverage off the menu or your other favorite bar classics. My dining partner ordered a Pacifico beer that came in the bottle. We both really enjoyed our starter and drinks of choice! 
For the main course I ordered my favorite Mexican dish, tacos al pastor. Guajillo's tacos al pastor came with adobo marinated pork shoulder, pineapple, onions, and cilantro along with a side of rice and refried beans. Each taco order came with three very full tacos. I was very impressed with my meal. The tacos al pastor were juicy with the pineapple and well marinated meat, but also had a bit of extra flavor thanks to the adobo. My partner ordered the grilled steak burrito. Their burrito was massive, and the flour tortilla was fully stuffed with rice, refried beans, cheese, Guajillo salsa, and grilled steak. Sour cream and pico de gallo came served on the side for dipping. We were both quite pleasantly full after our meals and could not stop raving about our dinner.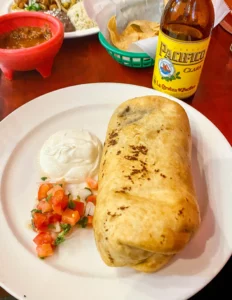 A specialty of Guajillo that we did not dare to try is the el cachudo challenge. They claim this is the biggest, baddest, hottest burrito in the Washington DC, Maryland, and Virginia area. This gargantuan burrito comes with carnitas, chorizo, chicken, fish and beef with rolo's voodoo salsa. Yes, you read that right, there are five meats served in this singular burrito. We asked our server about the challenge, and they said they do encourage sharing the burrito with a friend.  
Guajillo Mexican Grill was a terrific place for a dinner date night. Next time I'd love to visit during their happy hour or even try out their brunch menu. I will absolutely be back to eat again at Guajillo. It is still to be determined if I'll ever dare to try the el cachudo challenge! Stop by Guajillo next time you're in the Arlington area for a great Mexican meal.