Hutong takes inspiration from exotic Chinese herbs and spices to give its patrons a meal to
remember.
Hutong is known for their fiery Northern Chinese cuisine. Their menu features specialty dim sum while their bar has exotic Chinese cocktails, which incorporate Chinese herbs and spices. These elevated cocktails were originally created in other bars in Hong Kong, London, and New York. 
The decor inside is quite modern, chic, and trendy. However, some walls have Chinese bricks that are 100 years old. They also have a feature wall of hand-carved wood panels. Upon entering, there is a sweet, red-colored wishing tree; during the Chinese New Year, guests make wishes to the tree in the hope that one day, their wishes will come true!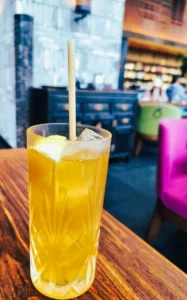 Just so you know before coming, they have a dress code. They do not allow flip-flops, beachwear, or baseball caps. They also do not permit sportswear after 5 p.m. They obviously want to ascertain a certain clientele. 
Hutong offers a business lunch on Monday through Friday for $29 (plus an automatically applied 18 percent service charge) per person. The meal includes a floral Chinese iced tea as well as your choice of a soup, appetizer, and main. For soup, you can choose between a Chinese leek soup with chili peppers or a Chinese beef and egg broth soup. Their appetizers include wasabi okra, Hutong dan dan noodles, and wild mushroom and spinach. For their mains, they offer Kung Po chicken, ma la chilli prawns, and rice vermicelli. You can also add more sides for $9 each, such as ginger kai-lan, Chef's Fried Rice, and wok tossed pea shoots. You can even add a half Peking duck with pancakes for an additional $25 (minimum 2 people).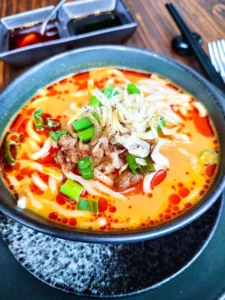 During my visit, I tried the business lunch, and I chose the Chinese Beef and Egg Broth soup. My server informed me that it was made with only egg whites, and it was quite a delicate and light soup. I followed this with the Hutong Dan Dan Noodles, which I loved. This dish was truly substantial, with noodles submerged in a vibrant, creamy peanut sauce.  
Did you know that the name refers to a type of carrying pole (dan dan) that was used by walking street vendors who sold the dish to passersby? The pole was carried over the shoulder, with two baskets containing noodles and sauce attached at either end. As the noodles were affordable due to their low cost, the local people gradually came to call them dan dan noodles, a reference to the street vendors. The name is directly translated as "noodles carried on a pole," but "peddler's noodles" might be a more accurate translation.
My main was the Kung Po chicken. This dish delivered a considerable punch of heat, with thin slivers of garlic and a plentiful amount of red chilis. It was another colorful dish, albeit one with a rather small portion for the main course. If I come again, I will definitely add a side to the order!