Boss Burger and Brew where you can #EATLIKEABOSS
Boss Burger and Brew, which has been open since 2015, is a surprisingly cool restaurant/pub that fits in with Wynwood's urban style. It is, however, located in an outdoor shopping center in Hialeah, of all places. It is a vibrant joint, with modern urban decor and lots of bright Wynwood-style art adorning the walls. They are predominantly known for their burgers (though they offer plenty of other alternatives on their menu), and their business's mantra is "eat like a boss" as well as "making the best burgers in Miami, one ingredient at a time." Their craft beer selection has over 50 options!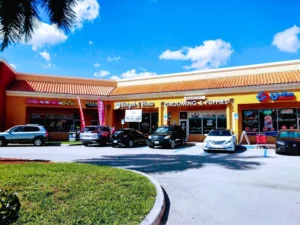 Restaurant Guru has named Boss Burger and Brew the "Best Pub and Bar" in 2020 and 2021. They're open from 12 p.m. to 10 p.m. Tuesday through Sunday, and until 11 p.m. on Fridays and Saturdays. From 12 to 4 p.m. on Sundays, they serve a separate, fully loaded brunch menu with items like Maple BBQ Gator, bacon cheeseburger Benedict, avocado toast, El Sandwichito, burritos, and so on. They also have a lunch special menu from 12 to 4 p.m. Tuesday through Friday. 
The menu is quite substantial and includes some amazing burger choices, such as a bacon burger, cheeseburger, The Awesome Burger, El Benny, El Tumbe, Jimmy 2 Tymes, TNT, Pancho Villa, The Beyond Burger, El Croqueton, and The Grand Jefe Burger.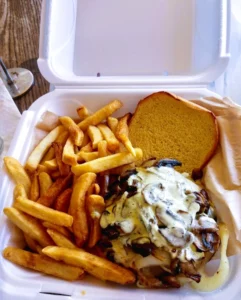 I ordered "The Awesome Burger," which is a half-pound beef patty with caramelized onions, mushrooms, muenster cheese, and house-made thyme aioli. It was a perfectly cooked, large, juicy patty oozing with deliciousness, and it was too much for me to handle. It came with a side of fries and was reasonably priced at a well-deserved $15. The burger was topped with a lovely cheesy mushroom sauce that was loaded with caramelized onions and combined with all of the meat juices.  It arrived promptly 15 minutes from when I placed the order, which thoroughly impressed me.  
I plan to come back when I am craving a decent burger, and I intend to sample El Tumbe. This burger offers two half-pound beef patties, a fried egg, bacon, guava, and double muenster cheese. This might be too much for me to handle single-handedly, so who wants to come and share this with me? They also offer five different types of cider, which is fantastic for an English fan like me. The ciders on offer are Ace Pineapple, Triple Jam, Brighter Times, Black Widow, and Ciderboys First Press. If this does not float your boat, they also offer lagers, ales, wines, and even cocktails.