In the mood for authentic Peruvian food? Inca Social is the place for you.
If you're looking for Peruvian food in the Washington, D.C. area, there are surprisingly a lot of choices. However, many of the Peruvian restaurants focus on pollo a la brasa (Peruvian roasted chicken), but Peruvian cuisine offers so much more than that! If you desire authentic Peruvian dishes with a wide variety of options including Nikkei cuisine, which is a fusion of Peruvian and Japanese popular in Peru, then Inca Social is the restaurant for you. 
Inca Social Arlington recently opened at the end of 2021 and is already serving up amazing food in an Instagram-worthy setting. From the moment you walk in, you're greeted by beautiful cultural artwork showcasing the Nazca Lines and Machu Pichu, trendy neon pieces in the shape of Incan symbols, and bold colors that energize the whole restaurant.  
We had a reservation and were seated quickly right by the ceviche and sushi bar. It was fascinating to see the chefs at work preparing the fresh fish. Our waiter was immensely helpful in describing the popular dishes at Inca Social as well as other traditional Peruvian cuisines to our table. I'm familiar with the classics, but if Peruvian cuisine is new to you, the waitstaff is deeply knowledgeable. In fact, our waiter was Peruvian, so he was an expert!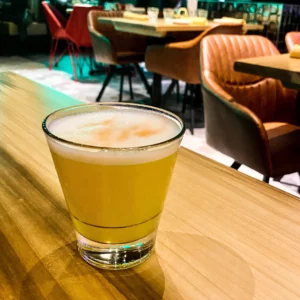 We ordered passion sour cocktails to start our evening. They are made with Peruvian pisco, passion fruit purée, sugar, egg whites, and bitters — so delicious! When you go to a Peruvian restaurant, I always suggest that you order a drink made with pisco, which is a Peruvian spirit made from distilled grapes. For appetizers, we got Inca balls and anticuchos. The Inca balls, which were made from potato dough and stuffed with cheese and ground beef, were suggested as an Inca Social favorite. Anticuchos are a classic street style dish made of grilled beef heart on skewers. Both were lovely options to start our meal. 
For our entrées, we ordered two traditional Peruvian dishes: the ceviche sampler and lomo (steak) saltado. Ceviche is the national dish of Peru and consists of fresh raw fish cured in citrus juice with onions, corn, and sweet potato. If you like raw fish, this dish is a must-try. You get to taste three different flavors of ceviche they serve at Inca Social; our favorite was the rocoto cream flavor. The lomo saltado was also excellent. This dish is a stir fry of beef, onions, and tomatoes in an oyster and soy sauce served over rice with fries on the side. I would order both entrées again in a heartbeat!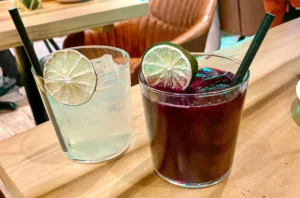 Instead of dessert, we opted for another round of cocktails. This time, we got the chicha rum and the chilcano. The chicha rum uses a Peruvian juice called chicha morada, rum, pineapple juice, and lime juice, while the chilcano is pisco, lime juice, ginger ale, and bitters. These cocktails were very flavorful, and it was exciting to try the traditional ingredients.  
Inca Social Arlington was a great spot for modern and classic Peruvian food. This is a fun restaurant for date nights or gathering with friends, and they even offer a fantastic happy hour menu. I will definitely be back for more!