Istanbul Grill is a true Turkish delight in the heart of Houston.
Istanbul Grill is a popular Houston restaurant that has been specializing in Turkish food since 1997. This restaurant is known for its variety of Turkish kabobs and pizzas, which attract both Turkish residents and fans of the cuisine. They are open every day except Mondays and offer vegetarian options. The portion sizes are generous, and the menu is diverse enough to satisfy a wide range of customer preferences. 
The exterior of Istanbul Grill is small and humble, but it's also inviting. The restaurant has minimal parking right next to a separately owned outdoor bar. The first thing people will notice is the outdoor patio, which is immensely popular for Houstonians looking for delicious food on a day with clear weather. The atmosphere is cozy and calm, as well as well-organized, with staff members, including the owner, attending to the needs of guests. The takeout register is right near the patio steps, and the mini bakery is behind it. The inside of the restaurant contains the main kitchen and customers dining in. It's perfect for small gatherings like casual dates, individual meal cravings, and small parties.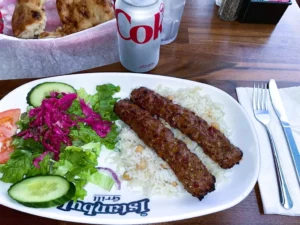 I requested #74 from the menu during my last visit to Istanbul Grill. This menu item is an order of Lamb Adana, which consists of two skewers of ground lamb kabob prepared in a Turkish fashion, white rice with garbanzo beans, and a side salad. This is a great basic order when trying Turkish cuisine for the first time, or if you're just craving a delicious kabob dish. The meat was very well seasoned, juicy, tender, and somewhat gamy. Some of the spices were visible inside the meat when cutting into it. The rice was thick and loose with a nice subtle flavor to it. The salad was a reliable source of nutrition and made a cold, refreshing side to the meat and starch.  
I am personally selective with kabobs because many places do not make them to my liking. However, this dish from Istanbul Grill has always pleased me, and the meat tastes like pure meat with no bread crumb fillers. During my past visits, I've tried a couple of Turkish pizzas, which were both soft and delightful. The pizzas do not contain tomato sauce and they resemble cheese bread shaped like a big canoe. They're also particularly large, which justifies their prices. 
My last visit's service was just as fabulous as my meal. The staff was welcoming, and my server was keenly attentive. The food took a fair amount of time to reach my table. It was obvious that it took some time to cook, but it eventually arrived at a proper moment, as it did for other guests around me. The outdoor patio, combined with the pleasant weather, made for a truly warm experience. I also appreciated how they had plastic covers near the patio to keep excessive sunlight and flies away from the customers' food orders. The prices were fair, and the portions of meat and rice were considerate and filling. I have been extremely satisfied with all my dine-in and takeout visits to Istanbul Grill in terms of taste, freshness, and service.