Central Texas Style BBQ is serving up delicious hickory smoked barbecue with a Cuban flare. 
Central Texas Style BBQ is a decades-old barbecue joint located outside of Houston since 1969. It is extremely popular in the region, and it remains beloved by many for its Texas barbecue with a nice touch of Cuban inspiration. It has been owned and operated by the same family for over five decades now. The menu here is vast, with hours-long smoked meats, as well as sides and desserts prepared daily in-house. The most popular menu item is their brisket, which is Texas' most popular barbeque meat and is held to an exceptionally high standard by residents across the state. Other popular dishes include smoked sausage and barbecue baked potatoes. Recently, Central Texas Style BBQ added some vegan options, which, according to some reviews I've read, were well-received.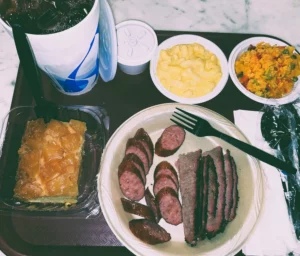 This establishment is open seven days a week from 10 a.m. to 9 p.m. with fairly quick lines. However, lines can be long on weekends, especially on Sunday afternoons when people sometimes wait an hour to place their orders. Central Texas Style BBQ has received notoriety from local politicians and first respondents. There are even some YouTube videos about the restaurant's background and success with its products.  
The outside of Central Texas Style BBQ looks like a small one-story house with a chimney and a rugged parking lot. The exterior of the building is mostly maroon and yellow bricks. This joint is right next to the train tracks and a minute away from the town's historical museum. However, one key component that attracts customers is the rich smell of hickory wood smoke signifying well prepared Texas barbecue.  
The inside is humble, like a one-story house as I previously mentioned. The walls of the whole dining area are filled with posters of movies, older generation actors, musicians, and quotes. The ambiance is soothing and cozy, and it certainly has a family restaurant vibe to it. Throughout the week, the owners of Central Texas Style BBQ can be found working behind the tray line or sitting near the dining area.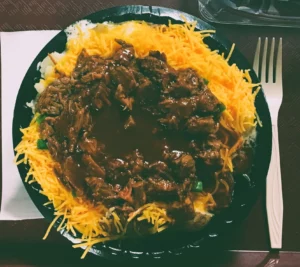 During my last visit, I ordered a lunch portion brisket plate with two sides of Spanish rice, a large cup of iced tea, and a slice of pineapple upside-down cake. The brisket was delicious with great smokiness. It was so tender that it fell apart when picking slices up with my fork. The two sides of rice were very tasty with a buttery taste and moist texture without being too dry or greasy. The rice contained small pieces of green beans, lima beans, peas, carrots, and corn. The iced tea was cold and refreshing. The dessert I ordered was absolutely delicious. The buttery yellow cake base was dense like pound cake but moister. It had an abundance of candied pineapple chunks, which were addictive, juicy, and sweet.  
On my most recent visit to Central Texas Style BBQ, the service was as efficient, organized, and hospitable as it had been on all my previous visits. The meals taste like they are prepared by Texas food experts, while the side dishes and desserts always taste like they are made with pure love from a caring aunt, mother, or grandma. To top it all off, the prices are quite affordable, with a two-meat dinner plate costing only $19.