La Casa de Isaac and Moishe in Highland Park, IL

is Mexican food at its most authentic.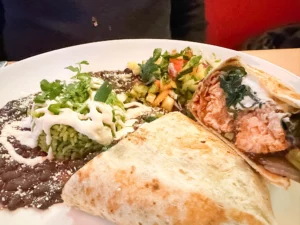 To say that dining at La Casa de Isaac and Moishe is like feasting in a traditional hacienda is an understatement. Not only will you enjoy fabulous over-the-top Mexican cuisine and beverages, but the ambiance is warm and inviting with top-notch service to match. 
The Nava Brothers opened La Casa de Isaac and Moishe restaurant in 2010. It has been a staple in Highland Park ever since, enriching the city's reputation as a dining hot spot. The extensive menu combines their mother's traditional recipes blended with Jewish-style cooking. The Nava brothers have taken their mother's recipes and turned them into their most popular dishes.  
Brothers Isaac, Moishe, David, and Israel are originally from the town of Huitzuco, Guerrero de los Figueroa in Mexico. They moved to the U.S. at a very young age and worked in the restaurant industry for 20 years. This inspired them to reach for the American dream by opening their own restaurant and deli where they could prepare the dishes that their mother served them as children.  
Hungry yet? Let's start with appetizers. Dig into their savory guac with fresh house-made chips. For something a little different, begin with King David's Quesadilla, a delectable blend of lox with onion, chive cream cheese, and melted cheese. 
Savor an awesome margarita. Isaac's Margarita is made with tequila, orange liqueur, lime juice, and agave syrup for a very refreshing cocktail. Or sip on a skinny margarita, which has fewer calories and less sugar. Popular Mexican beer and homemade Mexican soft drinks are on tap. You'll also notice their extensive wine collection with popular wines from California's Sonoma Valley.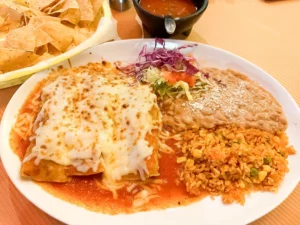 When it comes to entrees, the menu features a robust menu of chicken, beef, and fish, all prepared with traditional Mexican ingredients and served heaping with sides. Their most popular dish, Isaac's Mother's Favorite Enchiladas is sort of a family secret. From what I could see, it's chock full of avocado, onion, cilantro, chicken….and cheese.  
Their second most ordered item is Salmon Goat Cheese Enchiladas made with grilled salmon, spinach, portobello mushrooms, asparagus, grilled onions, served with black beans, green rice and mango relish. They were savory and filling.   
Add a sweet dessert like popular Flan (custard), Cinnamon crisp w/ ice cream or Tres Leche (three milk cake) for a fabulous ending.  
La Casa de Isaac and Moishe is also open for breakfast serving crepes, blintzes, and eggs. One of their most popular breakfast items is Huevos a la Mexicana, scrambled eggs with onions, tomato, and jalapeno. Enjoy Huevos Rancheros, two sunny-side-up eggs on tortillas covered with our homemade ranchero sauce and sprinkled cheese.  Migas is their Mexican fried matzo. They even serve Challah French Toast and a Lox Plate.  
To bring a taste of Mexico home with you, check out the Isaac and Moishe Deli in nearby Highwood, which offers many of the same menu options as their restaurant, along with fresh fish, fruits, and vegetables.