Serving good people good coffee since 1983 at Long Coffee.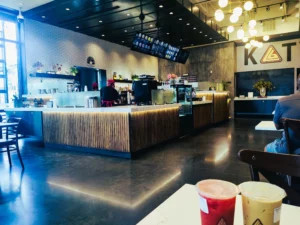 I have always been a fan of Long Coffee, a family-owned coffee shop, but the only other location I knew of was the original, in Houston's Bellaire neighborhood. So when I realized they'd opened a brand new location in my neck of the woods, I had to stop by and grab some of their amazing tea.
I was genuinely shocked at how much different this location looks — it's huge! It has giant picture windows to bring in natural light, lots of seating that is well spaced out so that you aren't forced to sit right next to someone, and really comfortable, cushioned chairs.
Although they do serve a variety of pastries, like eclairs, as well as pasta dishes, I was only there for some drinks. I've had my share of favorites at Long Coffee over the years, such as their Ginger Milk Tea, Cafe Sua Da (or Cà Phê Đá, which is clearly a favorite because so many people were drinking it during my visit), and Coconut Snow (which tastes just like Hawaiian shaved ice). This time, I wanted to spice things up and order something different.
I decided on watermelon juice and a coffee milk tea. Their watermelon juice is just freshly juiced watermelon, and their coffee milk tea is a blend of black tea and Long Coffee's medium roast house coffee. Since I couldn't decide between ordering a coffee and a tea, why not choose a combination of both?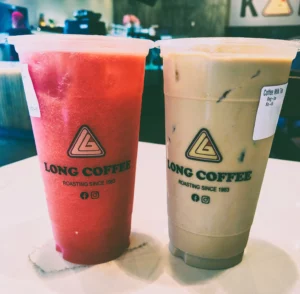 I'd barely sat down in my chair before my drinks were ready — they were so fast! Both drinks came out at the same time. I loved the bright red color of the watermelon juice, but oh man, I loved the flavor even more. Even though it's technically not even summer yet in Houston, it's still extremely hot outside, so this ice-cold watermelon juice was absolutely perfect.
Not only is it healthy (especially when you order it without sugar like I did), but it is exactly what you need to feel refreshed after being out in the heat. Watermelon is super hydrating, and this is a much more convenient way of getting all those nutrients.
The coffee milk tea was just as good, as is expected with Long Coffee. I'm a big fan of mixing coffee and tea, such as matcha lattes with a shot of espresso, so I knew I'd like a mix of house coffee and black tea too. It's a great pick-me-up after a long day!
However, the real hit of the day was the watermelon juice. I actually chugged the entire thing in 10 minutes and decided to go back and get another! It's so tasty, I couldn't recommend this drink enough.
Even though I've only been to the Katy location once, I don't think I've ever had a bad drink at Long Coffee in general. Even though I loved the watermelon juice, if that's not your thing, you really can't go wrong with picking anything on their menu. I've even had their eclairs in the past, and they're also really good.
Long Coffee has been around in Houston for a long time, and their dedication to high-quality, fast service and delicious eats and drinks is why they're such a favorite in the Houston and Katy area.