If you want a true taste of the Greek culinary experience, then call Mandolin Aegean Bistro and make a reservation.
I wanted to be surprised when visiting Mandolin Aegean Bistro, so I didn't look it up ahead of time. I did realize it was extremely popular though because, even two months out, we could only get a 3:30 p.m. reservation for the date we wanted. Given its location in Miami and its obscene popularity, I assumed that it would be chichi and very upscale. That is not the case at all.
Mandolin Aegean Bistro has a cute Mediterranean look with a white building, blue door and trim, and lots of plants. As we walked inside, I was amazed. Everyone was seated outside in a large and charming courtyard, and the feeling was totally casual.
The owners are a Greek wife and Turkish husband. As I looked around, I have to say they totally nailed the Greek vibe. The atmosphere is exactly like a casual taverna with old-world charm that you could find right in Greece.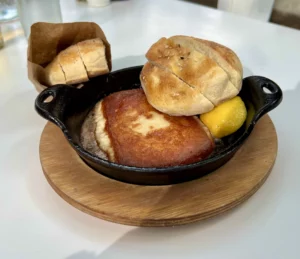 We started with some pinot noir, Greek beer (Mythos), and cheese saganaki. The saganaki was brought to the table already finished off rather than flambéed tableside. I'm not a huge cheese fan, but the presentation was the draw for ordering it, so it was a bit of a disappointment. It arrived hot in a mini skillet with perfectly lightly browned cheese and slices of warm bread. It was a fairly sized portion, and we were asked if we wanted more bread. We definitely have to go back now that I realized we totally screwed up by not ordering the octopus. The best octopus in the world is served in Greece, and since everything about the Mandolin Aegean Bistro is so authentically Greek, we need to come back to put their octopus to the test.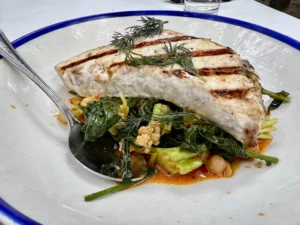 I wanted some fresh fish, so I went with the daily swordfish special. We often share each other's dishes, so I had hoped my husband would go for the manti dumplings, which are the owner's Turkish specialty. However, he decided between the beef souvlaki (made with sirloin) and the lamb chops, which won out.
Many places we go to lately have been understaffed as a result of pandemic effects on the workforce, but there seemed to be an abundance of waitstaff here. The service was fantastic. At exactly 4 p.m., we noticed an influx of people and realized it was new waitstaff pouring in for a shift change. They all wore jeans and white tees, and judging by the smiles, high fives, and hugs going around, this is a crew that enjoys both their jobs and their fellow coworkers. Our waitress came by to say farewell and brought her replacement to the table for an introduction. The shift transition went smoothly.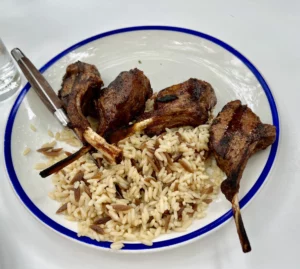 The Mandolin Aegean Bistro goes the distance to ensure quality and freshness in their ingredients. Most of the herbs and vegetables come directly from Homestead farms located south of Miami. As a side note, the swordfish menu description needs some translation. It came on a bed of chickpeas, spigarello (an heirloom variety of broccoli rabe native to southern Italy), and Fioretti (a broccoli and cauliflower hybrid, nutlike and sweeter, with delicate stems) in a mild red pepper butter sauce.
While the fish was fresh and awesome, and the dill was a flavorful touch, we both really dug into the veggie mixture. It was as unique as it was delicious.
When my husband, a total meat lover, ordered the lamb chops, we were eager to try this classic Greek dish. The dish arrived without any frills or garnishes, just lamb chops and rice. Presentation aside, the rice was tasty, and the lamb chops had a nice light char on the outside while being just barely pink inside, precisely as we'd ordered.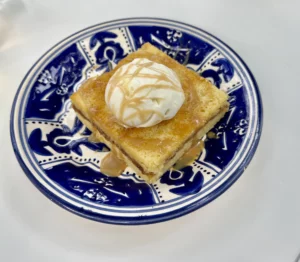 We considered skipping dessert, but after seeing something chocolatey and delicious looking pass by, we checked out the dessert menu. We knew we had to go with something out of the ordinary. Olive trees flourish all over Greece and I guess they needed to find a use for all those olives, but have you ever heard of olive oil cake? And even stranger, olive oil ice cream? There is nothing oily or greasy about this dessert, though. It was delectable. The cake included a layer of feuilletine (small shards of crispy crepes), ganache, and frangipane (sweet almond-flavored custard). It should be no surprise that Mandolin Aegean Bistro has their own pastry chef. I am so glad we didn't skip the dessert here