Attention all Matcha lovers: Welcome to Matcha heaven at Matcha Village!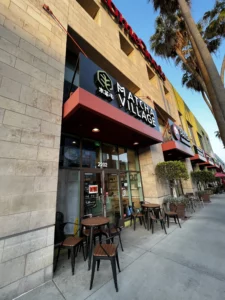 I am normally not a big matcha fan, but Matcha Village on Sawtelle Boulevard caught my eye. When you walk in, you're met with a super aesthetically pleasing decor and color scheme. There are plenty of seating options, so it makes this space a great spot for students to come and order some drinks and snacks while studying.  
Matcha Village carries both drink and food options. I decided to try both! I ordered an oolong milk tea with boba. I requested 75 percent sweetness and it was delicious! The drink still had a nice, sweet flavor without being overly sweet and masking the taste of the oolong tea. The milky flavor was the perfect sweet treat. The boba had a nice, chewy texture and had the right amount of sweetness.  
Their menu also has a wide variety of matcha drinks. You can order them iced or hot, blended or over ice, and with or without toppings. My friend tried the Matcha Mega Tornado. This is an iced matcha drink that is blended with cream cheese and topped with their signature matcha cream. My friend said it had a great, strong matcha flavor without being overpowered by the sweet cream flavor. It gets its tornado name from the swirls of sweet cream around the edge of the cup.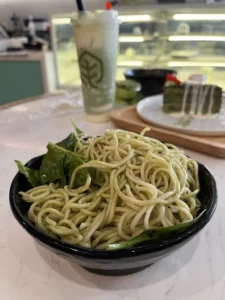 For food, I wanted to try both a sweet and a savory option. For the sweet choice, I ordered a matcha crepe cake. Over 50 thin layers of crepe were stacked on top of one another, topped with a matcha-flavored creme, and served with a small pitcher of sweet creme to pour over top. The overall presentation of this dish was beautiful and the flavoring had a nicely muted flavor of matcha with low levels of sweetness. Since it wasn't too sweet, it was an excellent dessert to enjoy without feeling guilty afterward!  
For the savory choice, I ordered their new dish, which was matcha shaken noodles. It came in a plastic container filled with noodles and various veggies as well as a side of matcha sauce. You are supposed to pour the sauce into the container and shake it to mix it with the noodles and vegetables. I was originally hesitant to order this dish because I have never tried matcha in a savory way, but I was pleasantly surprised by how much I loved this! The noodles had the perfect, chewy texture, while the sauce was the ideal balance of sweet and salty. 
Next time you're in the Sawtelle area, be sure to give Matcha Village a try! They do a wonderful job at providing a variety of matcha-flavored drinks and desserts that use quality matcha and are not overpowering with a sweet flavor. Thus, this spot is ideal for enjoying a sweet treat without feeling too guilty! Matcha Village has all the options to satisfy your matcha craving.