There's a time for every tea and a tea for any time when dining at Buena Vida.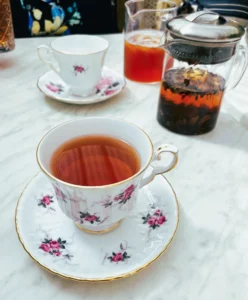 Summer is around the corner, which means I am on the lookout for cute new spots to dine at with outdoor seating, good vibes, and obviously, yummy food! During my research, I found Buena Vida Tea Bar & Garden, which offers an afternoon tea service. Reasonably-priced tea service is hard to find in L.A., so I was thrilled to find this place. I also appreciate how it is more casual than the average afternoon tea service. This aspect makes it more appealing to people passing by, especially since the location is still relatively new.  
Upon walking into the Buena Vida storefront on Montana Avenue, it is bakery-style with seating on the outdoor back patio. Despite being in the heart of busy Santa Monica, the floral arrangements and fountain make the outdoor space calming and enjoyable. The owner signed the lease right before COVID hit, so she held off the opening of the restaurant for two years. Her passion and zest for her business are evident in the way she kindly communicates with her customers. 
The tea service (per person) at Buena Vida includes: unlimited hot or iced tea, two tea sandwiches based on the daily selection, one savory item with the choice of a quiche or empanada, one scone, and two small sweets with the choice of a brownie, thumbprint cookies, teapot cookies, walnut cake, and more. It is $25 per person, which I found to be a very reasonable fee for the quality of everything. I had the Persian Delight black tea blend served hot, which totally hit the spot. The tea was so smooth and did not even need any sweetener. My family members tried the iced version and said it was equally as flavorful and delicious.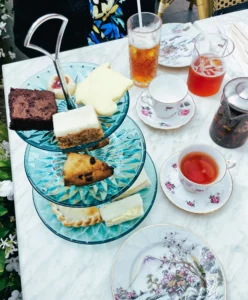 I had the egg salad sandwich, and it was yummy. However, the taste bud show star was the ground beef empanada. It was paired with a chimichurri sauce and was absolutely delicious. Although it is not something I would typically order, I am extremely glad I did as it is one of their specialties. It was perfectly cooked, served hot, and the sauce was so flavorful! The raisin scone was so fluffy on the inside and paired great with the jam and cream. I had the brownie and the walnut cake for my sweets, which were both delicious! The brownie was fudgy, and the moist walnut cake had pleasant frosting. There are many gluten-free baked goods and pastry options, which is an added plus!  
The staff at Buena Vida were incredibly kind and happy to inform us about what the tea service included as well as the tea varieties available. As mentioned earlier, the floral arrangements, artwork, fountain, and seating on the back patio make Buena Vida an ideal spot for enjoying afternoon tea, doing work, or catching up with a friend. I would definitely recommend going for the tea service, but you can also order tea and pastries a la carte. I will certainly be going back to Buena Vida Tea Bar & Garden for afternoon tea frequently this summer. I had a great experience, and it is something super unique and calming to add to my agenda.