Join executive Chef Angel Araya at Mi Casa on
Dupont Circle
.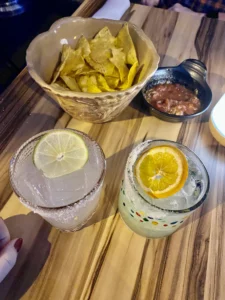 Are you looking for an amazing sit-down Mexican restaurant in Washington DC where you can also get a tangy margarita on the rocks? Visit Mi Casa in Dupont Circle for an amazing Mexican dining experience. This restaurant gets extra kudos from me since it is LGBTQ owned and operated. 
I visited Mi Casa before heading to a late-night comedy show at DC Improv, and it was the perfect dinner date spot to elevate our evening activities. When you walk into the restaurant you immediately feel the modern Mexican vibes it radiates. The waitstaff was kind and seated us quickly. They even were able to meet my request to sit outside since it was a beautiful crip Washington DC Spring evening.  
Right after being seated on their trendy outdoor patio we were served complimentary chips and salsa. The chips were salted to perfection with the ideal corn tortilla crunch. The salsa did not disappoint us either, it had a subtle heat to it while still being medium to mild so most people would be able to enjoy it.  
I am a huge margarita fan. I cannot go to a Mexican restaurant without ordering the house margarita to see if it passes my margarita test. Mi Casa's far exceeded my expectations! I ordered the Fronterra. This had El Jimador Blanco Tequila, Fresh-Squeezed Lime juice, and Simple syrup. It was heavily salted on the rim, which is my ideal situation for a margarita. My date ordered the Del Campo. This beverage came with Corazón Silver Tequila, Mango, Passion Fruit, Ginger, Agave, and Lime. He loved the drink and thought it brought a tropical twist to a classic margarita. I also loved the unique glassware that each drink was served in. It made the experience even more festive.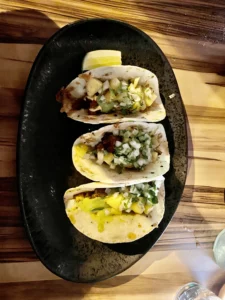 For the main course I ordered the pastor tacos. These were served with marinated and seared pork pastor, pineapple, jack cheese, habanero emulsion, and a delicious avocado salsa verde. These tacos were an elevated twist on a classic al pastor taco and I absolutely loved them. My dining partner got the fajita burrito with steak, salsas ranchera, suiza, beans, rice, jack cheese, and house made guacamole. We were really impressed with the authentic taste of our entrees that yet had a new twist on each dish. The savory Mexican flavors sang in each taco and burrito. We could not get enough of our food.  
It was impossible for us to leave Mi Casa without ordering the churros. The churros came with an incredible bittersweet chocolate sauce for dipping. The churros were the perfect mix of crunchy, crispy yet soft. These are a must order if you go to Mi Casa.  
Mi Casa is in a wonderful location for all that Washington DC has to offer. It is close to the downtown area for locals at the office but also close to fun attractions like the National Mall. Mi Casa is easily metro accessible and a perfect restaurant to meet up with friends, go on a date night, or even dine solo. Make a reservation for Mi Casa next time you are in the mood for Mexican food near the Dupont Circle neighborhood of Washington DC.