Musaafer aims to showcase "our homeland in a manner that authentically honors the country's culinary diversity" to the people of Houston.
Musaafer is a restaurant located inside the Galleria Mall in Houston. Since 2020, this establishment has specialized in cuisine from 29 different states of India. Some of the dishes have a distinct, modern twist, which is part of what makes the experience so interesting at Musaafer. For those with palates looking for a simpler yet high-quality meal, the menu also features steak and seafood dishes. The desserts range from familiar Indian sweets to highly creative options that are only sold here.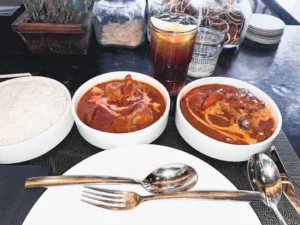 Depending on where you look at it, Musaafer has diverse ways of catching the eye from the outside, but going inside is a truly enchanting experience. The outside has a big sign that draws attention from people driving by the backside of the mall. The outer section on the inside near the entrance is not particularly noticeable. However, the stairway going up to the dining area gives a mysterious and tranquil impression. It is dark and contained with just enough width for about two people.
Once customers walk some stairs, they will notice a host stand with employees greeting guests and leading them to their tables. The inside of the restaurant is vast and majestic with its multiple designs and pictures on the walls. There is a bar, dining tables, and an extravagant upstairs patio. There are colorful chandeliers hanging from the ceiling and unique floor designs throughout the restaurant. Musaafer is best described as a high-end restaurant that looks like a palace for a sultan. There are so many colors and designs that people eating here can just gaze in awe. There is also soothing Indian instrumental music playing inside that sounds as tranquil as in a massage session. The servers and managers are constantly walking around checking on the desires of their guests. The atmosphere is upscale and cozy in the day, but it can get busy at night. Customers will be amazed at both the appearance of the restaurant and the dishes.
I ordered the Butter Chicken Experience with basmati rice on my last visit to Musaafer. Two bowls of butter chicken are included in this meal order, one of which is the traditional red kind from North India and the other of which is a green sauce with Mexican influences. Since I prefer the traditional North Indian type more, I asked for a double portion of the red butter chicken. My order was unbelievably delicious and of superior quality. The chicken pieces were very tender, and the gravy was rich in flavors and had a thick texture. The gravy had a strong tomato base with a touch of sweetness and smokiness. The basmati rice was fresh, loose, and moist. This white rice is subtly spiced, which adds a tad more flavor to otherwise plain rice.
I visited on a Sunday afternoon, which I recommend since the crowd is moderate and the food arrives more quickly. My server provided superb service. I have been here a few times back in 2021, and one of the servers I had then gave me a sincere welcome back greeting. Based on my few visits, the servers are attentive and always excellent for questions on menu items. My order was pricy, totaling close to $50 with curry, rice, and one non-alcoholic drink. For newcomers to Musaafer, you should be aware that meal orders include a gratuity. However, my meal at Musaafer was worth it due to its uniqueness, high-quality ingredients, and fast service done with a great attitude.