Since 1908 Philippe the Original has been serving up some classic American cuisine.
Walking into Philippe the Original is akin to stumbling into a history book. Saw dusted floors and retro accruements harken back to the days when nearby Union Station was a bustling hub of westward rail expansion. As matter of fact, this classic purveyor of French dip sandwiches predates the station by 15 years and recently celebrated over 100 years in operation. You can feel that century of history the minute your shoes hit that storied ground.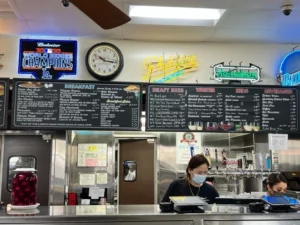 Philippe the Original is without a doubt the place where I take out-of-town guests or family members who want an authentic taste of Los Angeles. It probably isn't common knowledge that the French dipped sandwich originated in L.A., and in this very establishment no less. The story is as amusing as the sandwiches are delicious. A piece of a sandwich roll was accidentally dropped into the vat of au jus left over from their beef roasts and for the sake of prompt service, they serendipitously served the guest this now wet sandwich. The rest is history.
There will almost certainly be a line, but how long depends on the time of day. Lunch tends to be the witching hour for locals and tourists alike. You are helped by one of the "carvers" standing behind the counter. Each sandwich is carved and dipped to order. They also serve as your cashier and barista. Once you visit the one-stop counter for all your dining needs, you're ready to take your tray to the seating area of your choice.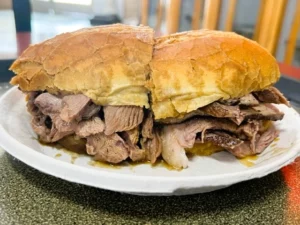 The menu expands far beyond sandwiches and even the signature meal can be customized in a variety of ways. Perhaps you're as big of a fan of lamb as I am? Well, you can do a lamb dip. Can't eat red meat? Try a pork or turkey dip. There's even a pastrami dip. Aside from the protein, you can add cheese if you like (I prefer without) and choose between standard single dip (one side), double dipped (both sides), or wet (the entire sandwich gets dunked meat-and-all). I'm personally a double dipped man.
Sides include classic deli favorites like potato salad, macaroni salad, coleslaw, pickled eggs, and kosher pickles. Full breakfast is served including pancakes, eggs, French toast, bacon, and other morning favorites. You can even end your meal with a sweet treat like a slice of carrot cake, tapioca pudding, or even a baked apple dripping with cinnamon sugar. The sweetest treat of course is the entire experience. Oh, and did I mention there's free parking? Philippe the Original is an L.A. gem in every sense indeed.