Picaro is serving up authentic Spanish flavors in the heart of the Mission District.
A few years ago, I traveled to Barcelona, Spain with my family. I went on food tours and cooking classes where I was introduced to tapas, paella, sangria, and other traditional Spanish dishes; this was when my obsession with Spanish food began. Since I constantly get cravings for Spanish tapas, I decided to visit a local Spanish restaurant, Picaro. Located in the Mission District of San Francisco, Picaro has been serving authentic Spanish flavors since 1982. When I was researching the best tapas restaurant, Picaro was one of the top choices that popped up.
As soon as I walked in, I was welcomed by charismatic hosts and servers. I had a reservation for 7 p.m., so the host guided me to a small table toward the back of the restaurant. Their restaurant was much bigger than I anticipated, with multiple interconnected rooms. The interior was lit with bright oranges, reds, and yellows, and every wall had beautiful and intriguing decorations.
Picaro is definitely one of the most lively restaurants I've ever dined at. The warm energy was super welcoming, and the beautiful, well-dressed people made the ambiance feel safe and cozy. People were laughing in between bites, catching up with friends, and going on dates. All in all, it was the best vibe for a night out with friends and loved ones, or even by yourself.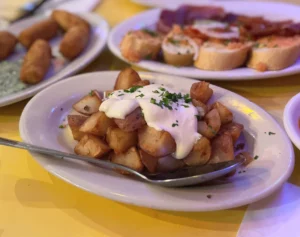 While viewing the menu through a QR code, we were quickly provided with complimentary bread and sauce. With all of their tapas options, it was really difficult to decide what to order, but I went with jamon serrano, croquetas de pollo, patatas aioli, and of course, paella de carne.
Patatas aioli are potatoes with a homemade garlic mayonnaise. These are perfect for garlic lovers! The potatoes were perfectly cooked to a nice texture that reminded me of breakfast potatoes. The homemade garlic mayonnaise that covered the potatoes was definitely the highlight of this dish. It was especially creamy, and the mayonnaise flavor was not too overwhelming. This tapas dish was the most comforting of my orders.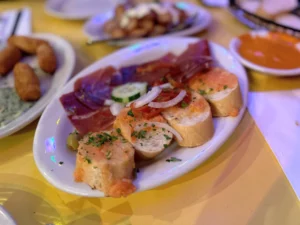 I knew I had to get pan con tomate, my favorite Spanish tapa from Barcelona and the perfect starter. Picaro's jamon serrano en pan con tomate, described as "Canapes of Spanish-style cured ham on toasted French bread. Spread with ripe tomatoes and olive oil," did not disappoint my expectations. Most pan con tomate I've had in America consists of tomato sauce sitting on top of the bread, but the type I've had in Spain consists of the tomato rubbed into the bread, allowing the bread to soak up the flavor. Picaro's pan con tomate tasted classic and traditional, and it also came with a selection of delicious Spanish ham.
I also wanted to try their croquetas de pollo, which are their chicken croquettes. These were actually my favorite out of the other tapas. As soon as I bit into it, I could taste the creamy chicken goodness. The combination of thick bechamel sauce and tender chicken easily melted in my mouth. This dish came with five small pieces, and I savored every bite.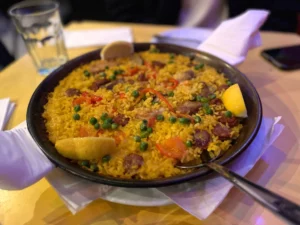 Last but not least, we had to try a paella dish. We got the paella de carne, the meat paella with chicken, pork ribs, and chorizo. They have a variety of different paella options, including seafood, squid ink, lobster tail, and vegetable paella. Paella is a traditional Spanish rice dish with vegetables, meat, and/or seafood, all cooked in a paellera, a pan specifically made for paellas. Before digging into the rice, we squeezed lemon juice on top to bring out the flavors of the meats. The meat portion was generously filling.
Toward the end of our meal, a mariachi band came and performed a few songs! This was such a pleasant surprise, and it added a layer of warmth and happiness to the atmosphere. Everyone was cheering, laughing, and enjoying delicious Spanish food. This experience truly reminded me of my trip to Barcelona.
Overall, this is undoubtedly one of the best Spanish restaurants I've dined at in America. This is a great choice if you're craving some affordable Spanish food. Plus, the ambiance and music are absolutely amazing. They're a busy restaurant, so I highly recommend making a reservation and joining the waitlist on Yelp prior to arrival. While you're waiting, there are close-by dessert spots to check out.