A contemporary and polished dining experience at the Blind Butcher serving New American fare.
Blind Butcher is located right at the heart of San Francisco's well-known LGBTQ district, the Castro district, which is surrounded by many bars, restaurants, wine bars, a nightclub, and even sex shops for those friskier at heart. This is the perfect place to stop at the start of your night out in the city to fill up your belly with consistently good food before continuing your night.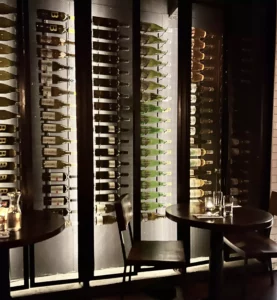 It was a chilly night at the end of February, so we chose to sit inside, which was bustling throughout the entire Saturday dinner service. The slightly dimmed interior design was chic, sophisticated, and leathery, with rose-red accents and exposed industrial lighting fixtures. There's a decent amount of high-top seating and comfortable booths inside, including one tucked away at the back corner that drew my attention as soon as we walked in. We didn't have a reservation, but after 5-10 minutes, we were seated immediately at that same booth. I guess it was my lucky night! 
There were four of us and we decided to order a bottle of red wine to share for the course of our dinner. Service was the only downside of our experience. It was quite rushed and hasty at times. We had to flag down our server on multiple occasions to get his attention and to order our food because he sprinted right away after pouring our wine, leaving us no time to place our food order.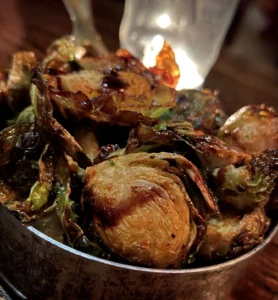 Once we managed to get his attention, we went ahead and ordered some grilled Brussels sprouts to start with, which were tasty. Nothing too special about them, just a decently appetizing grilled and glazed bowl of Brussels sprouts.
It's also worth mentioning their lobster mac and cheese, which two of my friends ordered. It was a bit too salty and heavy for my taste, but it was still delicious with generous chunks of lobster meat. According to what I'd heard, it lingered in the stomachs of my friends until the next morning!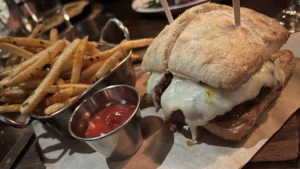 I ordered a wagyu beef burger for my main course, which I thought was quite delicious. The meat was thick, juicy, and perfectly cooked medium-rare as I requested. The ciabatta buns were toasted nicely, with some caramelized onions and cheese in between them. Overall, it was a classic burger and fries course that was elevated enough to justify the approximate $20 price point, which I didn't mind at all. 
All in all, I think Blind Butcher is worth the visit. The food is delicious and the whole menu is not overly expensive, especially by San Francisco standards. The ambiance was quite nice, romantic for a date night, though it might get too loud during weekend dinner service, so I'd suggest going on a weekday instead for a date night. The location is superb, especially if you plan on going out after to local Castro bars for drinks or to shake some booties! It is also better to reserve a table in advance via OpenTable rather than walking in directly.