Craving locally sourced Italian-leaning Mediterranean? Serratto is a must-try.
Valentine's Day 2022 found my two close friends and I very single and searching for a place where we could celebrate Galentine's Day. We scoured OpenTable to find a place in Portland with a reservation at a reasonable hour. We knew we wanted to venture outside of the Beaverton area where we are located and get dressed up for a nice evening. Aside from that, we were up for anything. A reservation for 6:30 p.m. at Serratto was calling our name.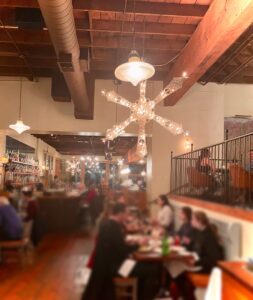 Located two blocks from NW 23rd, it is nestled in a very hip area of Portland. If you have never been to this famous street, it is a must. Boutiques, cafés, fast-casual restaurants, and fine dining establishments line the long stretch of almost 20 blocks. While it may take a bit of searching to find a parking spot depending on the day and time, it is absolutely worth it.  
The owners of Serratto are husband and wife duo Alex and Julie Bond, who have seriously monopolized the Portland restaurant scene. The couple also owns Saint Cupcake, Poplandia, Clyde's Prime Rib, and The Lighthouse Restaurant & Bar.  
Executive chef Tony Meyers is leading the kitchen at Serratto. His dishes are culinary masterpieces that allow for Pacific Northwest ingredients to shine, such as from Grand Central Bakery and Painted Hills Natural Beef.  
We walked into Serratto and were greeted by a server who promptly took us to our table. She sat us at a four-top with a red booth on one side and chairs on the other. She handed us the dinner and drink menus, and then left us to look over them. Oftentimes, I find too many options on a menu to be intimidating and overwhelming, so I was pleasantly surprised to find the menu single-sided with a plethora of appetizing choices.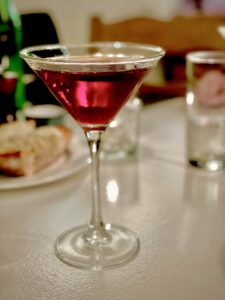 The wine list is extensive, so if you are a wine lover, there are plenty of bottles ranging in price from $20 to upwards of $300. And don't fret, you can just get a glass if you do not want to commit to an entire bottle.
Not in the mood for wine? Not to worry. Serratto offers plenty of handcrafted cocktail options with a full-service bar. We all decided to go the cocktail route. I ordered the San Gennaro, which is a twist on the classic Manhattan. It was a tasty concoction of Mitcher's rye, Averna, Carpano Antica, and a dash of Campari, garnished with either an Amarena cherry or an orange peel and served in a martini glass. My friend Rhawni ordered the Keepsake, which contained Crater Lake vodka, St. Germain elderflower liqueur, lemon, and a prosecco float. My friend Jenn ordered a classic and delicious lemon drop.
We ordered the Grand Central ciabatta toasted garlic bread and the Caesar salad to get us started before dinner. Garlicky is the word I would use to describe both of these dishes. The ciabatta, with bread from local Portland bakery Grand Central, was toasted to perfection and topped with a mess of Grana Padano cheese and a garlic herb butter. We debated getting a second order but decided to save room for the main course. Jenn declared that the Caesar salad was the best Caesar salad she had ever had. It was salty, garlicky, lemony, and a very refreshing appetizer.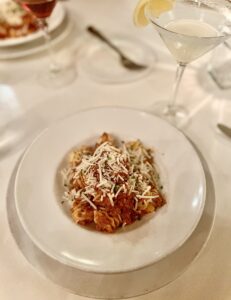 For the main course, we all could not resist the handmade pasta. A great option that Serrato provides for some of their pasta dishes is the ability to do a half-order for a fraction of the cost of a full order. Jenn and I both went with this alternative and it was the perfect amount of food. There were no leftovers and only a clean plate at the end of the evening. I ordered the rigatoni, which is a combination of onion slices, basil and garlic cooked into stewed tomatoes, mozzarella balls, and mild Italian sausage, and is topped with Grana Padano. Jenn ordered the radiatore, which, in my opinion, was the best dish of the evening. The radiatore is a pork and lamb Bolognese topped with shaved pecorino. When I go back, I will definitely be ordering this. The flavors of the Bolognese were an exceptional mix of tomato and meat, with a subtle hint of sweetness. Rhawni ordered baked ziti, which features locally sourced Painted Hills ground beef from Fossil, Oregon to create a ragù with tomatoes and onions, topped with fresh mozzarella and Grana Padano, and then baked to perfection.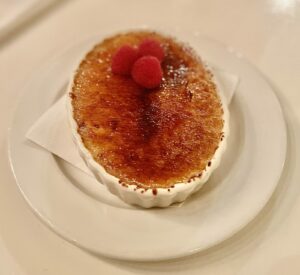 Is it really Valentine's Day without chocolate? I don't think so! We had to order the bittersweet chocolate cobbler with a generous scoop of vanilla bean ice cream. Less of a cobbler and more of a lava cake, this dessert was decadent and rich. Even by splitting it, we had a hard time finishing it. We also split the vanilla bean crème brûlée and the ramekin was spotless after devouring it. It was not as rich as the cobbler and being served chilled made it that much more refreshing. Plus, the raspberries on top added the ideal amount of freshness.  
I definitely recommend Serratto for a lovely evening out. The food was delicious, the employees were welcoming and knowledgeable, and the aesthetic was cozy. I had no complaints leaving the restaurant and cannot wait to go back!