Tacos Del Julio promises to take you on a trip to Mexico with every bite.
A friend of mine recommended Tacos Del Julio to me. After hearing his rave review of the place I knew I had to give it a try!  Tacos Del Julio is a two-location operation with big standards for serving guests authentic Mexican food with awesome flavor. These locations each serve a variety of popular Mexican foods such as tacos, enchiladas, and tortas. This restaurant was established in 2005. They use high-quality ingredients for every dish to ensure maximum flavor potential and freshness. Tacos Del Julio is well known among fans of real Mexican cuisine.
Tacos Del Julio looks humble from the outside with a noticeable sign-holding an interesting title. This place is small, and mostly a place to visit for the food rather than the environment. However, the inside is fragrant with delicious orders made near the tables and a relaxing vibe. The servers are very attentive and aware of their customers' every need, which is due in part to the restaurant's small size. Despite the small size of the room, servers come to your table from the moment you walk in, unlike some places where customers stand to place an order before sitting. Each table has a pair of creamy hot sauces, each with great flavor and made from scratch. There are a respectable number of menu items and drinks to choose from when dining here. The plates are filling and rich with flavor for affordable prices.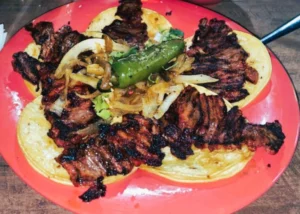 On my last visit to the new Westheimer location in Houston, I ordered Chicken Enchiladas Del Julio with Mexican rice instead of roasted potatoes. This meal was delectable, filling, and full of flavors and moisture. The enchilada wraps were incredibly soft and juicy with a nice corn flavor to them. The shredded chicken filling consisted of moist, tender, and abundant dark meat pieces. The sauce on top was full of tomato flavor and had a texture like red salsa. The cheese was white and crumbly, with a rich flavor that wasn't too sharp or processed. The avocado slices added a cool smoothness and extra nutrition to the meal order. The rice was mildly spiced and loose, while the charro beans were soupy and earthy. These enchiladas came with five wraps as well as some veggies, beans, and carbs for a total of about $11. Another reason to appreciate this dish is that it is expertly made and balanced in ingredients without being too greasy.
The service at this location was helpful and organized. The staff is well-informed on questions pertaining to menu orders. My order came out in a timely manner at just the right temperature. The cleanliness of this restaurant was spot on with the tables being cleared as soon as customers got up.