Molina's Cantina has been serving up authentic Tex-Mex cuisine since 1941.
Molina's Cantina is a family-owned Tex-Mex restaurant with three locations throughout Houston. This famous local establishment has been in business since 1941 and is still running strong today. They are famous for a variety of popular Tex-Mex dishes such as fajita tacos and ground beef enchiladas. Their food recipes have been passed down through generations, each with its own unique preparation and flavors, distinguishing them from other Tex-Mex restaurants. The meal orders are reasonably priced and very filling. Certain dishes, such as enchiladas, tend to be extraordinarily rich and comforting in taste and texture.
Molina's Cantina has a modest and presentable look from the outside. It looks like a restaurant for casual dining rather than formal, table service dining. Molina's Cantina appears a bit mysterious from the outside, but the inside looks spirited and family-friendly. There are numerous people enjoying their meals with satisfaction, while staff members are walking around checking on guests and interacting with each other. The ambiance is relaxed, yet full of liveliness. Crowds are often large.  Customers can also enjoy the Latin music playing in the background. Molina's Cantina's locations are all designed in diverse ways, but with a similar humble design. However, the flavors, prices, and customizations of the food are the biggest reasons why people come here and you will find this at any of their locations.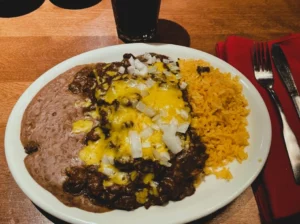 During my last visit, I ordered Beef Enchiladas de Tejas. Prior to the food arriving, they provide all customers complimentary red salsa and tortilla chips. So I happily snacked on this while waiting. The enchiladas are truly satisfying, they are rich and delicious. My dish consisted of two substantially sized enchiladas full of homemade chili, cheddar, and spices. I requested mine with chopped onions, which I usually never order in anything else. The enchilada wraps were incredibly soft and fresh with some subtle corn flavor to them. The cheese was sharp, tasty, and melted. The chili sauce was full of ground beef, mild seasoning, and a thick broth. It was clearly made with its unique recipe, which is one of the main reasons to order the enchiladas de tejas at Molina's Cantina in the first place. Customers can get this menu item with either cheese or ground beef for the filling. I prefer enchiladas with meat in them and this order always answers my wishes. Despite how rich the enchiladas are, it never tastes too greasy. The meat is never runny and tastes like real beef as opposed to processed. The cheese and gravy are heavy, but there is no excess oil dripping on the plate or being imbalanced in saltiness.
The service at Molina's Cantina has been great on my recent visits in terms of attentiveness, hospitality, and timing of food delivery. The servers are organized and great for questions on menu items and suggestions. The food comes in a timely manner without making customers feel rushed or neglected regardless of dining time. I showed up about forty minutes before closing and the service was just as consistent as before. The food is always at a great temperature without anything missing or lacking in spice. The managers are professional and keep a watch on the restaurant with great precision. When the bill arrived, I was even given two small but unbelievably delicious complimentary praline cookies. Molina's Cantina is a great option for traditional Tex-Mex food in Houston, TX any day of the week.